Aggressive Driving Increases Miami Car Accident Risks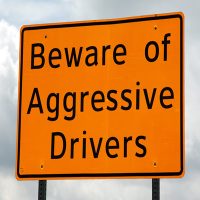 Drivers in our area have a reputation for being aggressive when dealing with other motorists and traffic. Unfortunately, this plays a major role in increasing the risks of car accidents in Miami. Find out more about the dangers aggressive driving poses and common types of behaviors to avoid.
Aggressive Driving Plays A Frequent Role In Fatal Miami Car Accidents
Two people were killed and others were injured in a recent fatal car accident in Miami. Sadly, aggressive driving is suspected of being to blame. According to a February 11, 2023 NBC News 6 report, the accident happened in the Westview area, near Northwest 111th Street.
Reports indicate a driver in an SUV was traveling southbound and attempted to make a left turn when a Dodge Charger traveling northbound on Northwest 27 Avenue crashed into them. Witnesses claim as the SUV driver was making the turn, the Charger sped up and appeared to be almost racing them. Sadly, that driver died in the crash, as did a passenger in the SUV. Several other people involved suffered serious personal injuries.
Speeding up to cut off other drivers, particularly in intersections or when making turns, is a common type of aggressive driving behavior. Unfortunately, as the above case shows, it can have tragic results and is a frequent factor in fatal car accidents in Miami.
To Reduce Your Risks, Avoid These Aggressive Driving Behaviors
Aggressive driving is a major problem not only in Miami but throughout the United States. According to the Insurance Information Institute (III), it is a contributing factor in close to 60 percent of all fatal crashes. Even in less severe cases, aggressive behavior increases the risks of serious personal injuries. To reduce the risks to you, your passengers, and others on the road, it is important for drivers to avoid the following:
Driving over the speed limit or too fast for road, weather, and traffic conditions;
Attempting to race or cut off other motorists;
Tailgating or following others too closely, which increases the odds of rear-end collisions;
Improper passing and weaving in and out of lanes;
Failing to yield or disregarding other traffic signs and signals.
In addition to putting motor vehicle drivers and passengers at risk, aggressive driving endangers motorcyclists, bicyclists, and pedestrians. Drivers who disregard safety and engage in aggressive behavior can be held liable for personal injuries suffered by others in the event any type of car accident does happen.
Our Miami Car Accident Lawyers Help You Get Compensation In A Claim
If you or someone you love is injured in a car accident and you suspect aggressive driving is to blame, reach out to Pita Weber Del Prado. Our Miami car accident lawyers can conduct a thorough investigation, determine who is at fault, and help you hold them accountable.
Whether it involves negotiating with insurance representatives or taking your case to court, we fight to get you the compensation you deserve. Call 305-670-2889 or contact our office online and request a consultation today.
Sources:
nbcmiami.com/news/local/1-dead-after-multi-vehicle-crash-in-westview/2971589/
iii.org/fact-statistic/facts-statistics-aggressive-driving