Employer's Liability for Work-Related Car Accidents in Florida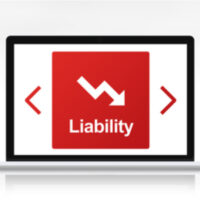 If you are reading our blog, you probably know what happens when you are involved in a car crash in your personal vehicle. But what happens when you get injured in a car accident while working and driving a company vehicle?
If you are driving a company car as part of your job duties and are involved in an auto accident, it can be difficult to determine liability. Many factors will be considered to determine liability in a car accident during work hours.
In many cases, your employer can be held vicariously liable for your crash. While your employer may be held liable for your car accident damages if you get injured while driving a company vehicle, you may still be liable, too.
When Can Your Employer Be Liable for a Car Accident During Work Hours?
Your employer can be held vicariously liable for your car accident during work hours under the following circumstances:
The accident occurred in the scope and course of employment;
You were on the clock when the crash happened;
You were driving a vehicle as part of work-related tasks;
You were involved in a car accident while running errands for your employer; or
The accident occurred while you were taking part in an activity that benefits your employer.
In Florida, your employer could be liable for your car accident injuries, even if you were at fault for the crash. You may be able to file a workers' compensation claim if you can prove that your accident is related to work.
When Your Employer May Not Be Liable for Your Car Accident
However, employers are not always vicarious liability for car accidents that involve their employees. For example, if you take a company vehicle to pick up lunch during work hours, your employer may not be liable for the crash.
Driving a vehicle when commuting to and from work is not considered a part of your job duties, though there may be exceptions. When it comes to determining liability for a car crash that occurs while driving a personal or company vehicle for work, it matters whether or not you are acting in the course and scope of your employment.
Also, your employment status will be taken into account when considering whether your employer is liable for your work-related accident. Independent contractors do not enjoy the same legal protections and benefits as traditional employees.
Can You Be Required to Pay for Damages to a Company Vehicle?
When letting you drive a company vehicle, your employer assumes the risk that you might be involved in a work-related car accident. That is why it is unlikely that your employer will require you to pay for damaging a company vehicle. However, if you were using a company vehicle for personal purposes or operating the vehicle under the influence of alcohol or drugs, you may be responsible for paying for car damage.
If you were involved in an auto accident in Miami or other parts of Florida, it is important to speak with a Miami car accident attorney regardless of whether you were driving during work hours or for personal purposes. Contact our lawyers at Pita Weber Del Prado to schedule a case review. Call at 305-670-2889 today.
https://www.pwdlawfirm.com/insurance/how-the-covid-19-pandemic-impacted-auto-insurance-rates-in-florida/