How You May Be Able to Sue an Aggressive Driver for Road Rage in Florida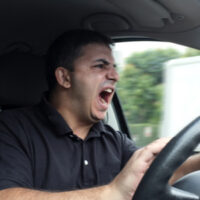 Road rage is a serious – and very dangerous – thing problem should not be belittled. Driving itself can be hazardous in Miami and other parts of Florida, but aggressive drivers can make it considerably worse.
Road rage incidents are a common occurrence in Miami, which – bizarrely – recently ranked among the best driving cities in the nation. If a motorist tries to run another off the road or intentionally crashes into another driver in a bout of road rage, consequences can be quite severe.
Operators of motor vehicles in Miami are responsible for their driving regardless of how upset, angered, or depressed they are. Being angered by another driver's inexperience, driving habits or decisions does not give you an excuse to drive dangerously. Car accidents caused by road rage tend to be catastrophic, as victims of such collisions are at risk of suffering serious injuries.
Road Rage Incident in Miami-Dade County
One such road rage incident has recently occurred in Miami-Dade County. It all started at the intersection of Southwest 95th Street and 117th Avenue when a male driver began honking at a 17-year-old female driver as soon as the light turned green, according to Local 10 News.
The female driver honked back, but it only outraged the male motorist. As a result, the man tried to drive the girl off the road twice. When the girl pulled into an apartment complex in an attempt to get away from the aggressive man, the situation escalated.
When both vehicles were outside the gate of the complex, the man's vehicle came in at an angle to block the girl from coming in and out. The man got out of his car and went around to the passenger side of the vehicle, where the girl's boyfriend quickly locked the door.
Telling the young boy to get out of the car, the man smashed the rearview mirror. One of the females who were in the man's car also got out to confront the teen girl. She reportedly told the girl that she "should not have honked back at us," adding that "you are the one sleeping at the light."
Can You Sue the Other Driver for Road Rage?
More often than not, it is not possible to sue a driver for driving or behaving aggressively on the road unless there was an actual collision.
However, in some cases, the raging driver's conduct can be so threatening and intimidating that it can amount to threats or intentional infliction of emotional distress, both of which are illegal under Florida law.
These threats may also be punished by criminal law as terroristic threats, or may even constitute assault if the aggressive driver pulled a gun or another weapon. If the other driver's conduct forced you off the road or you ended up in a collision due to road rage, you may be able to sue that driver and recover damages.
Before attempting to collect the aggressive driver's personal contact information, please wait until the police arrive because confronting an outraged motorist can be dangerous. Contact our Miami car accident attorneys to learn more about how you can sue a driver for road rage in Florida. Call at 305-670-2889 to speak with our lawyers from Pita Weber Del Prado.
Resource:
local10.com/news/local/2019/12/31/mother-shaken-up-after-teen-daughter-is-victim-of-road-rage-incident-in-miami-dade-county/
https://www.pwdlawfirm.com/car-accidents/legislature-addresses-dangers-of-texting-and-driving/