Loss Of Control Of Vehicle: Why It Happens And How To Get Compensation In A Car Accident Claim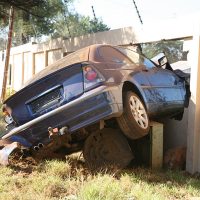 Most of us jump into our cars and begin driving without giving much thought to how the vehicle is likely to operate. Aside from reckless operations, other common issues can put you and your passengers at risk. Find out more about how car accidents in Miami can happen due to loss of vehicle control and how to get compensation in a claim.
Mother And Two Children Injured In Miami Gardens Car Accident Due To Loss Of Vehicle Control
A mother and two children were recently injured in a car accident in Miami Gardens. According to a January 23, 2023 News 7 Miami report, the crash happened in the vicinity of Northwest 22nd Avenue and Northwest 162nd Street.
The car was headed in a southbound direction moments before the crash. Surveillance videos show it careening down the street and colliding with a parked SUV, which was pushed into several other parked vehicles. The women's car continued on until it crashed into a street light, causing it to collapse.
The woman and two small children were airlifted to Jackson Memorial Hospital's Ryder Trauma Center. Police are continuing to investigate the accident and have not reported on any suspected causes.
Common Causes Of Loss Of Vehicle Control And Your Rights In Seeking Compensation
Loss of vehicle control is a common cause of car accidents in Miami. Unfortunately, reckless driving frequently plays a role in these crashes. The National Highway Traffic Safety Administration (NHTSA) states that speeding, going too fast for road or weather conditions, drowsy driving, and driving under the influence are all common causes.
In these cases, drivers may be liable for damages that result, both to themselves and others involved. However, there may be other reasons why this type of crash happens which are not within the driver's control:
Unexpected medical issues: Heart attacks, strokes, seizures, or even adverse reactions to medications can cause a driver to lose control of their vehicle;
Improper maintenance: Loss of control can happen due to failure on the part of mechanics in making needed repairs or performing shoddy work, such as not properly tightening belts or lug nuts and not balancing tires properly.
Negligence on the part of auto manufacturers and parts suppliers: Manufacturing errors and design defects are among the most common causes of car accidents in Miami due to loss of control of the vehicle.
In each of these cases, you may be entitled to compensation either through insurance or by filing a lawsuit against those whose reckless and negligent actions may have played a role in losing control of the vehicle.
Request A Consultation With Our Miami Car Accident Lawyers
Car accidents are complex events. At Pita Weber Del Prado, we can investigate your case, determine the causes, and help you hold those at fault accountable in a claim. To get the compensation you need to recover, call 305-670-2889 or contact us online and request a consultation with our Miami car accident lawyers today.
Sources:
wsvn.com/news/local/miami-dade/mother-2-children-seriously-injured-after-crash-in-miami-gardens/
nhtsa.gov/risky-driving/speeding