Miami Chain-Reaction Crash Involving Multiple Vehicles: Determining Liability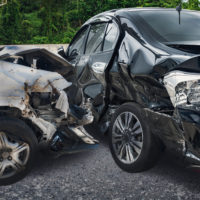 Any car accident is a scary and traumatic experience, but these crashes are even more catastrophic and violent when they involve more than two vehicles. Determining who is responsible for a multi-vehicle accident is a tiresome and complicated experience, as multiple parties may potentially be at fault.
Here at Pita Weber Del Prado, our Miami car accident attorney is well-versed in litigating such complex cases and determining fault in crashes that involve three, four, five, or more vehicles.
After all, recovering damages after a chain-reaction collision in Miami can be tough if you are on your own and do not have the required legal experience and skill to bring a personal injury claim and prove that one or several of the parties were negligent.
Multi-Vehicle Crash in Miami Involved Six Vehicles
A recent multi-vehicle crash in Miami involving six vehicles resulted in catastrophic consequences. WPLG Local10 shared surveillance video that shows the horrifying crash that left nine people injured in North Miami Beach.
The video shows a white SUV moving out into traffic as its driver attempted to turn left into the shopping mall. The driver of another white vehicle slammed into the SUV near the intersection of Northeast 163rd Street and Biscayne Boulevard.
Shortly after the crash sent the SUV flying, four other vehicles collided at the scene. One victim remains in critical condition, while two others are reportedly in stable condition. The police were not able to determine fault immediately, with Capt. Juan Pinillos of the North Miami Beach police department calling it "a very serious accident" and saying that the police must do their "due diligence" before they issue any citations.
One of the witnesses said it took up to eight minutes for the ambulance to arrive and take the severely injured victim to the hospital. As a result of the chain-reaction accident in North Miami Beach, traffic in the area was snarled for hours.
Responsibility in Chain-Reaction Collisions
Since a typical chain-reaction accident involves three or more vehicles hitting each other at different angles, determining liability can become a complicated process. In fact, there may be multiple parties at fault.
Also, do not be surprised if other motorists start blaming you for the crash even though you know that the accident was out of your control. The question of "who hit who?" turns into a blame game, which further complicates the process of determining liability.
That is why you need a Miami car accident attorney who has experience in litigating personal injury claims involving multiple parties after multi-vehicle crashes. It is necessary to establish which driver(s) were negligent in order to file an insurance claim or take legal action to pursue monetary compensation.
How a Miami Multi-Vehicle Accident Lawyer Can Help
A chain-reaction crash can result in injuries ranging from brain injuries and broken bones to spinal cord injuries and burn injuries. Apart from serious injuries, a car crash involving three or more vehicles can result in wrongful death.
There may be several at-fault liable parties in a multi-vehicle collision. The more motorists are responsible for the chain-reaction crash, the bigger the compensation. A Miami car accident lawyer can determine the worth of your claim by evaluating your medical expenses, lost wages, property damage, pain and suffering, and others.
Contact Pita Weber Del Prado to receive a free consultation. Call at 305-670-2889 to establish fault in your chain-reaction crash.
Resource:
local10.com/news/florida/north-miami-beach/video-shows-6-vehicle-wreck-leaving-9-injured-in-north-miami-beach
https://www.pwdlawfirm.com/auto-accidents/two-severely-injured-in-marathon-crash-on-u-s-1/