Most Dangerous Roads In Our Area And How They Increase Car Accident Risks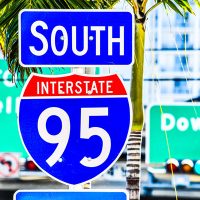 Car accidents in Miami can happen anywhere, but some roads are more treacherous than others. Heavy traffic, reckless driving, and other issues can make crashes more likely to occur. Our Miami car accident lawyer highlights some of the most dangerous roads in our area and how they increase your risks.
Common Roads When Car Accidents In Miami Frequently Happen
There are certain roads known for being treacherous, with a tragic history of car accidents. A November 2022 CBS News report listed I-95 as one of the most dangerous roads in the country.  Close to 300 people are killed in car accidents on the interstate each year. Considering the number of people locally who rely on I-95 for travel or as part of their commute, the stretch in Miami poses a significant risk.
Highways and interstates are among the most common places for serious, potentially life-threatening collisions. However, these crashes can occur on smaller roads as well. For example, the car accident rate on Ives Dairy Road is a major cause of concern among residents in the area.
The crash rate on this stretch of road, particularly near the Hard Rock Stadium, has steadily increased over the past five years. A December 29, 2022 CBS report provides details on one of the most recent crashes, which left multiple motorists suffering serious personal injuries. It was the third car accident to occur in the area in just a two-week period. Other dangerous roads that carry a high risk for car accidents in Miami include:
The Palmetto Expressway (State Road 826);
The Florida Turnpike, at the Homestead Extension (HEFT);
Route A1A;
State road 976, connecting Route 1 and HEFT.
 How Dangerous Roads Increase Car Accident Risks
The Florida Department of Highway Safety and Motor Vehicles (FLHSMV) reports that Miami has one of the highest car accident rates in the state. The sheer number of people-both locals and tourists-on local roads increases crash risks. Other factors that can make roads treacherous and car accidents in Miami more likely to happen include:
High rates of speed: Drivers on I-95 and other major highways throughout Miami are typically traveling at high rates of speed. This increases crash risks, as well as the chance of fatal injuries.
Road construction projects: Road construction is ongoing in our area and poses major risks for both workers and drivers;
Lack of proper lighting or traffic signals: Inadequate lighting and a lack of signs or signals at intersections make certain roads more dangerous;
Reckless driving: Speeding, driving under the influence, and driving while distracted are common contributing causes of Miami car accidents.
For Help In Filing A Claim, Contact Our Miami Car Accident Lawyer
When car accidents in Miami leave you or someone you love with serious personal injuries, Pita Weber Del Prado helps you get the compensation you are entitled to in a claim. To request a consultation with our Miami car accident lawyer, call 305-670-2889 or contact us online today.
Sources:
cbsnews.com/miami/news/i-95-ranks-1-for-most-dangerous-highway-in-u-s/
cbsnews.com/miami/news/latest-crash-on-ives-dairy-road-highlights-need-for-change/