New Texting While Driving Law in Florida Takes Effect October 1, 2019: What You Need to Know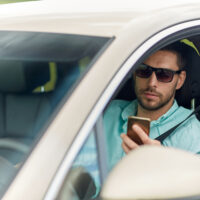 Florida, which sees nearly 50,000 motor vehicle collisions caused by distracted driving per year, was among the last states to implement primary texting while driving ban.
The law, which took effect on July 1, allows law enforcement officers to stop motorists who are texting while operating a vehicle.
Previously, texting and driving was not a primary offense, which means police officers had to look for another reason to stop a distracted driver.
Across the country, more than 3,100 Americans are killed in distracted driving-related crashes every year. Each day, more than 1,000 people get injured in car accidents involving a distracted driver across the nation.
If the other driver was using their cellphone before the crash occurred, talk to a Miami car accident attorney from Pita Weber Del Prado.
Nearly 1,000 Citations and Warnings Since July 1
According to The Gainesville Sun, Florida's primary texting while driving ban has resulted in nearly 1,000 citations and warnings being issued to motorists across the state in the first 10 weeks since the law took effect.
While there have been no details on the gender, age, and race of the drivers getting pulled over by police, officials believe that the law is effectively addressing the dangers of texting and driving.
From 2013 to July 1, 2019, texting and driving had been a secondary offense, but the new law has made the action a primary offense.
Based on the stats released by the House Transportation and Infrastructure Committee, the Florida Highway Patrol issued 438 written warnings and 542 tickets for texting while driving between the period of July 1 and mid-September.
However, the actual number of Florida motorists texting and driving is much higher because law enforcement agencies admit to "taking a soft approach." Chief Mark Brown told the Sun that officers "promote safety and education" as opposed to writing citations and warnings.
New Distracted Driving Law in Florida from Oct. 1
From October 1, the second part of the law kicks in, making it illegal for motorists to have a wireless device in their hands while driving in a school or construction zone.
The new texting while driving laws in Florida – both the July 1 and October 1 parts – do not apply to:
drivers using a navigation device or system;
wireless, hands-free devices; or
when a vehicle is not moving.
Warnings for distracted driving are expected to be issued to violators until January 1. Getting a ticket for texting in Miami or elsewhere in Florida would carry a $30 fine. Other penalties include court costs and fees, as well as adding points to the violator's driver's license.
If you were in a car crash with a driver distracted by his or her cellphone while driving, our Miami car accident attorney can help. Our Miami car accident lawyers at Pita Weber Del Prado will fight by your side to obtain the compensation you deserve.
We have the resources necessary to investigate your crash and collect any evidence of the at-fault driver's negligence, including cellphone records, texting records, and data obtained from the driver's social media accounts.
Discover your legal options by calling at 305-670-2889 or complete our contact form to get a free consultation.
Resource:
floridatoday.com/story/news/local/2019/06/28/floridas-new-texting-driving-law-10-things-you-need-know/1557610001/
nhtsa.gov/risky-driving/distracted-driving
https://www.pwdlawfirm.com/car-accidents/legislature-addresses-dangers-of-texting-and-driving/