Two Severely Injured in Marathon Crash On U.S. 1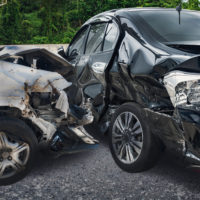 The Miami Herald is reporting that two people suffered serious injuries in a car accident that occurred on U.S. 1 in the Florida Keys on a recent Tuesday morning around 11:40 a.m.  The injured parties were flown to the Miami-Dade hospital, Jackson South Medical Center, via a Monroe County helicopter ambulance.
The sheriff's office confirmed that the crash occurred in Marathon between 82nd and 83rd streets.  One lane of the highway was blocked for emergency crews to get to the incident.  It remained blocked until the crews were able to clear it.
The Florida Highway Patrol has not yet revealed the cause of the accident, and the investigation into the crash remains ongoing.  There were front-end damage to both vehicles according to Trooper Julio Carrillo's report.  It is not believed by police that intoxication was a factor in the crash.  Charges are still pending as the investigation continues.
Car Accidents Statistics
Globally, there are close to 1.25 million deaths annually which, breaks down to over 3,000 deaths every day.  Car accidents are a very serious and common phenomenon. In addition to the fatalities, there are 20-50 million people who are injured and many injuries are severe, even with some individuals ending up disabled.  The age range where there is the highest amount of fatalities is between 15-44.
In the United States, there are over 37,000 people who die from car crashes every year and over 2 million individuals are injured or disabled.  Tragically, 1,600 children under the age of 15 will die annually in the states, and the age range of 16-20 sees approximately 8,000 people who suffer death from car accidents.  The cost of car crashes in the United States is striking, at over $230 billion every year which comes out to $820 per person in the country.
Car Accident Attorneys
There are many factors that lead to car accidents. The leading cause includes driving while intoxicated which accounts for 40% of all traffic deaths; 30% of all deaths in the country are a result of speeding, while 33% of deaths occur from reckless driving.  Reckless driving includes those who engage in distracted driving.  Distracted driving is a growing issue in the country and experts expect the problem to only get worse.
When you or a loved one has been injured in a car accident that was not your fault, you deserve to see your full legal justice.  The Miami car accident attorneys at Pita Weber Del Prado have been representing victims in the state of Florida for decades.  Our team of Florida personal injury lawyers is here to help you with your personal injury claim when you have been victimized by a negligent driver. Call our effective Miami personal injury lawyers today at (305) 670-6666 to discuss your case during a free consultation.
Resource:
miamiherald.com/news/local/community/florida-keys/article233012437.html
asirt.org/safe-travel/road-safety-facts/
flhsmv.gov/florida-highway-patrol/about-fhp/
https://www.pwdlawfirm.com/what-if-you-are-at-fault-for-an-automobile-accident/