What to Do if I Was Rear-Ended by Another Vehicle?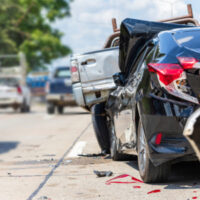 Getting rear-ended is always an unexpected and stressful experience. Rear-end collisions are the most common type of car accidents in Florida and other states.
However, many people panic and do not know what to do after being rear-ended by another vehicle. Contact our attorneys at Pita Weber Del Prado to help you handle your rear-end accident case and fight for maximum compensation in your case.
Steps to take after a rear-end collision
You need to understand what to do after getting hit by another car from behind because the steps you take immediately after the collision could impact your ability to seek compensation for your injury and property damage.
Get medical care immediately
If you have been struck by another vehicle from behind, it is critical to seek medical attention right away. While most rear-end car accidents are associated with minor injuries or no injuries at all, many such crashes can result in serious injuries.
Getting medical attention immediately following a rear-end collision can help you diagnose and document your injury. Delaying your visit to a hospital could negatively affect your personal injury claim because your insurance company would have an excuse to deny your coverage.
Note: It is advised to seek medical attention after a rear-end accident even if you do not feel any pain or symptoms. It is not uncommon for car accident injuries to take hours or days to show up.
Report your rear-end accident
Under Fla. Stat. § 316.065, you must report your car accident to the local police department when your crash resulted in:
Bodily injury
Death
Property damage of at least $500
In addition to notifying the police, you may also need to report the accident to your insurance company. However, when reporting your rear-end accident to the insurer, avoid admitting fault or saying anything that would adversely affect your personal injury claim.
It is advised to speak with an experienced car accident attorney in Miami before contacting the insurer. A knowledgeable lawyer will protect your rights and ensure that you receive the compensation to which you are entitled.
Contact a Miami car accident attorney
If a rear-end collision resulted in bodily injuries or property damage, you might be entitled to compensation. Many people mistakenly believe that it will be easy to recover damages if another driver rear-ends them.
Unfortunately, that's not how it works. While a driver who crashes into the rear of another vehicle is usually at fault for causing the collision, there are instances when the driver in front is held liable for a rear-end crash.
The insurance company may deny or undervalue your personal injury claim regardless of whether you got rear-ended or were the one who hit the rear of another vehicle.
That is why it is critical to contact a skilled Miami car accident attorney to help you obtain fair and full compensation for your injuries and damages. At Pita Weber Del Prado, our car accident lawyers are committed to protecting your legal rights and helping you get the maximum compensation available. Call 305-670-2889 for a free consultation.
https://www.pwdlawfirm.com/auto-accidents/can-you-recover-more-than-your-car-insurance-policy-limits/