When Can Drivers Use a Sudden Emergency Defense to Avoid Liability?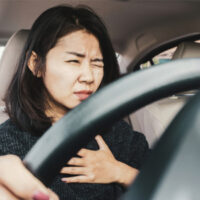 If you were involved in a car accident and suffered injuries due to another driver's negligence, you expect that motorist to be held liable for your damages and losses.
However, in certain situations, drivers can avoid liability. One of those situations is when a driver uses a "sudden medical emergency" defense. What is this defense, and when can it be used to avoid liability for car accidents in Florida?
What is a sudden medical emergency doctrine in Florida?
Under Florida law, all operators of motor vehicles are required to exercise reasonable care when driving. When someone causes a car accident, they will generally be held liable for the resulting damages and losses.
However, state law also recognizes the sudden medical emergency doctrine, which may protect drivers who cause accidents as a result of an unforeseeable medical emergency.
Not all emergencies qualify for the defense in car accidents. A driver could potentially use the sudden emergency doctrine to avoid liability if they suffered a medical emergency such as a seizure, stroke, or heart attack while driving.
However, the driver who experienced a medical emergency while operating a vehicle will need to prove that the medical event was unforeseeable for their defense to be successful.
Sudden emergency defense and no-fault system
In a no-fault auto insurance state such as Florida, responsibility for causing a car accident may not matter if the victim's injury is insignificant.
In Florida, injured individuals should file a first-party insurance claim with their own car insurance to cover their damages regardless of fault. However, a victim may be able to step outside the no-fault system to file a claim against the at-fault party's insurance carrier or sue the at-fault driver if specific conditions are met.
Generally, injured persons cannot file a lawsuit against another driver unless their injury is considered serious or permanent, as defined in Section 627.737, Florida Statutes. In other words, if a driver suffered a sudden medical emergency and caused a car accident, the fault for the collision may not matter if the victim's injury is minor and their insurance coverage is enough to pay for their damages.
Drivers can use the sudden emergency defense to avoid liability
If a motorist who caused your car accident uses the sudden medical emergency defense, your ability to recover damages could be limited. In this situation, you would not be able to sue the driver to seek compensation beyond what is covered under your Personal Injury Protection (PIP) coverage.
When a driver wants to use a sudden emergency doctrine to avoid liability, they are required to prove that their emergency was unforeseeable. For example, if a driver was told not to drive by their doctor due to a risk of suffering a medical emergency while driving, the driver may not be able to use the defense.
Contact our Miami car accident attorneys at Pita Weber Del Prado if the other driver is trying to use the sudden emergency defense to avoid liability for the crash. Our lawyers will investigate your case to determine whether the driver's emergency was foreseeable or not. Call at 305-670-2889 to schedule a case review.
https://www.pwdlawfirm.com/personal-injury/can-you-sue-a-beauty-salon-or-artist-for-a-botched-microblading-procedure/