Wrong Way Car Accidents In Miami: Driver Arrested For His Role In Fatal Crash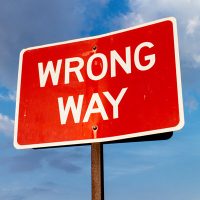 Wrong-way crashes are one of the most common and potentially deadly types of car accidents in Miami. One recent crash claimed the lives of five young people in our area. Our Miami car accident lawyer shares the latest news on the case and more about how wrong-way crashes occur.
Bail Set For Driver In Fatal Wrong Way Car Accident In Miami
The driver responsible for a fatal wrong-way car accident in Miami was arrested and a judge recently set bail in the case. According to the Miami Herald, the crash occurred on the Palmetto Expressway on Saturday, August 20, 2022  at 4:25 p.m.
Police report that a driver in a 2018 silver Infiniti Q50 was in the wrong lane and driving at a high rate of speed when he slammed head on into another vehicle. Inside were five young people, ranging in age from 18 to 25. Sadly, all were killed. The at-fault driver was charged with vehicular homicide and bond in the case was set at $50,000.
Investigations are ongoing and police have not revealed the reasons behind the crash. However, witnesses say the driver did not appear to slow down or take any evasive actions, nor were there any tire skid marks on the road. If he manages to make bail, he is to be held on house arrest. In addition to his criminal charges, other ramifications he currently faces include:
Permanent loss of driving privileges and surrender of his passport;
Detainment by U.S. Customs and Immigration Services (USCIS) while they check his immigration status;
Liability in a civil lawsuit filed by family members of the victims.
Common Causes In Miami Wrong Way Car Accidents
According to the state Department of Highway Safety and Motor Vehicles (FLHSMV), wrong way collisions are one of the most common types of car accidents in Florida and the most potentially dangerous. These crashes typically occur on major freeways and take other motorists involved by surprise, leaving them less time to react and making impacts more severe. Common reasons behind wrong way car accidents in Miami include:
Driving under the influence of alcohol, illegal drugs, or medications;
Drowsy driving, which causes the same types of dangerous impairments as DUI;
Distracted driving, which may involve texting, talking on cell phones, changing GPS settings, or engaging in any activity that takes your eyes off the road.
These accidents are common at night and among drivers new to the area, who may not be familiar with highway entrance or exit ramps and local traffic patterns.
Reach Out To Our Miami Car Accident Lawyers
At Pita Weber & Del Prado, we provide the caring support and professional legal representation victims of car crashes and their families need to hold the at fault driver accountable. To find out how we can help you, reach out and call 305-670-2889 or contact us online and request a consultation with our Miami car accident lawyers.
Sources:
miamiherald.com/news/local/crime/article265008439.html
flhsmv.gov/pdf/crashreports/crash_facts_2020.pdf