Who Is at Fault When Bad Things Happen on a Plane?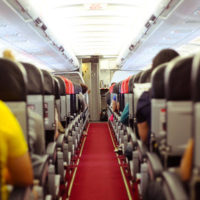 It has been repeated numerous times that air travel is one of, if not the, safest forms of travel. And statistics do seem to bear this out – there are many more accidents and injuries that occur in automobiles than in airplanes. However, when an airplane is involved in a crash or other similar situation, the results can be catastrophic. It is not uncommon to hear of an airline crash in which all passengers aboard were killed. Determining who is at fault, and obtaining compensation from those persons or entities, is the strength of a personal injury attorney experienced in airplane accidents. Recently, the engine on a Southwest Airlines flight experienced metal fatigue, in which a piece of the fan blade detached from the engine and made contact with a window on the plane, causing a passenger to be partially sucked out of the window. Horrifically, the passenger sustained fatal trauma as a result. A discussion on who is at fault in an airplane crash or similar situation, and under what legal theory compensation can be recovered, will follow below.
Where the Fault Lies
While commercial airline disasters are always headline news, they are exceedingly rare. As attested to above, the facts bear out that air travel is a very safe form of travel. However, smaller, private planes, while they do not generate news and attention, are actually far more dangerous, albeit still safer than automobile travel. When determining who is responsible for an airline crash or other similar situation, it is important to ascertain whether the incident occurred on a commercial airline or a private airline.
When a commercial airliner crashes, the injured and families of the deceased will almost always be able to recover compensation from the airline and/or its insurance carrier. Further, this will mostly like be the case regardless if the crash was due to pilot error, a mechanical issue with the plane, or other preventable reason. Additionally, even if the airline would not normally be responsible for an accident, such as due to an act of God (e.g., a lightning strike) or other unforeseen event (e.g., terrorist attack), an airline may nevertheless settle any claims asserted against it in court to avoid negative public opinion.
Regarding private airplanes, determining liability and recovering compensation becomes a bit more complex. Most private airplane crashes are caused by pilot error. Most pilots protect themselves with pilot's insurance, which is much like a driver's automobile insurance. Thus, obtaining compensation would necessarily involve dealing with the pilot's insurance carrier. If not pilot error, the airplane owner may be responsible if they failed to maintain the aircraft in a safe operable manner, or negligently hired the pilot who caused the accident. Similar to pilots, airplane owners also typically purchase insurance, especially if they rent their aircraft to the public. Finally, the airplane's manufacturer and/or the ground maintenance crew may be responsible if there were manufacturing or repair issues which caused the accident.
Liability
While negligence is a very popular form of liability, and one that can be successful if the elements are met in a specific case, in both commercial an private airplane accidents, there is another legal liability theory through which compensation can be recovered – common carrier liability, which carries with it a high duty of care.
Airlines fall into a legal category called common carriers – that is, entities that transport the general public for a fee. The law imposes a heightened duty of care on common carriers. Thus, common carriers must act with a high degree of care and use the vigilance of a very cautious person in order to protect passengers from potential harm. This standard of care includes the airline's employees. Airlines owe this heightened duty to passengers from the time they board the airplane to the time they disembark.
Seek Legal Advice
If you, or a loved one, was injured in an airplane crash, or a loved one was killed as a result, contact the attorneys at Pita Weber Del Prado as soon as possible. We have experience in airplane accidents, and will work with you to get you the compensation you deserve. Contact our Miami office today for an initial consultation.
Resource:
cnn.com/2018/04/17/us/philadelphia-southwest-flight-emergency-landing/index.html