Biscayne Bay Boating Accident Claims Lives Of Two Victims, Leaves 10 Others With Serious Personal Injuries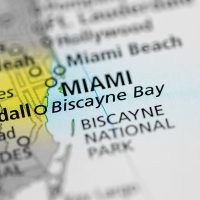 At this time of year, boating provides a way to cool off and get away from the high temps in the city. Unfortunately, crowded conditions make boating more dangerous in the summer months. As a recent, tragic crash in Biscayne Bay illustrates, boat accidents in Miami can cause devastating personal injuries for boat operators and any passengers on board.
Fatal Boat Crash Off Key Biscayne 
According to a June 20, 2022 Miami Herald news report, a fatal boat crash happened in Biscayne Bay recently.  It occurred at 10:30 p.m. the prior Friday evening, about a mile west of Key Biscayne. Witnesses reported that two boats collided near Nixon Beach, causing 12 people to fall into the water. The local Coast Guard was notified, rushed to the scene, and began rescue operations.
Ten of the boat passengers were pulled from the water and sent to local hospitals. Miami-Dade Fire Rescue, who was also at the scene, recovered the body of an 11th victim. A Coast Guard crew from Miami Beach found the 12th victim, who was also deceased, Saturday morning.
Authorities have not released any additional details about the boat accident or the underlying causes. The case was referred to the Florida Fish and Wildlife Conservation Commission (FWC) for a thorough investigation.
Common Causes of Boat Crashes
According to FWC statistics, more than 800 boating accidents in Florida happen each year, claiming the lives of nearly 100 victims, and can happen in a variety of ways. When it involves boat crashes and collisions between two or more vessels, there are often multiple contributing factors involved. However, the FWC reports that among the most common causes include:
Boat operator inattention: Navigating local waters, particularly at night, in bad weather, or when there is a significant amount of boat traffic, requires the full attention of the boat captain. Being distracted for even a moment can have potentially life-threatening ramifications for passengers on board.
Not maintaining a proper lookout: Advanced technology aids most boat operators in navigation and can help increase safety by alerting them to obstacles, other boaters, or potentially dangerous conditions ahead. However, even with sophisticated scanners and other gear, keeping an eye out can be challenging, particularly at night.
Boater inexperience: Boat rentals are plentiful throughout our area and there are not many requirements. Tourists or even residents who are inexperienced on the water end up putting themselves and others at risk.
Boat operator impairment: Operating a boat under the influence of alcohol or drugs is just as dangerous as driving a car. Boating under the influence (BUI) is illegal under the Florida Statutes and a leading cause of boat accidents in Miami.
Contact Our Miami Boat Accident Lawyers 
At Pita Weber Del Prado, we help in investigating boat accidents and determining who or what is responsible. If you or someone you love is involved in a crash, call 305-670-2889 or contact our office online and request a consultation with our Miami boat accident lawyers today.
Sources:
miamiherald.com/news/local/community/miami-dade/key-biscayne/article262659592.html
myfwc.com/news/all-news/boating-stats-521/
flsenate.gov/laws/statutes/2010/327.35