Can You Use Your Auto Insurance If You Are Injured In A Boat Accident In Florida?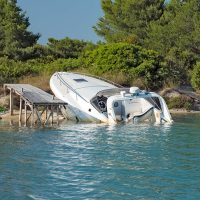 The vast majority of drivers in Florida have auto insurance, which is mandatory in the state. But what about boat accidents? Does your auto insurance cover your injuries and losses suffered in a boating accident? Or can you file a lawsuit against the person or entity responsible for your boat accident?
Consult with a Miami boat accident lawyer to determine what options for compensation are available in your particular situation.
Can You Use Car Insurance to Get Compensated for Your Boat Accident?
The short answer is, "No, you cannot use your auto insurance policy to get compensated for your injuries and losses suffered in a boating accident." But how can you seek compensation for your boat accident if you cannot use your car insurance to cover the damages?
It is fair to say that a boat accident is somewhat similar to an automobile accident. The injured party is entitled to compensation if the boat operator was negligent or careless and their negligence/carelessness caused the collision.
The difference is that Florida law requires motorists to purchase auto insurance, while boat insurance is not mandatory in the state.
In Florida, boaters have the option of purchasing liability insurance to cover any damages they cause to other people as a result of their negligence. However, not all boat operators in Miami and elsewhere in Florida have boat insurance.
For this reason, you may have a hard time seeking compensation for your boat accident injury if there is no boat insurance.
How Can You Seek Compensation After a Boat Accident in Florida?
Since you cannot use your auto insurance to cover your financial losses and expenses as a result of a boat accident, you will need to explore your other options for compensation.
If the boat operator responsible for your boat accident is a homeowner, you might be able to pursue a claim against their homeowner's insurance policy. However, the at-fault party's homeowner's insurance policy may not cover all of your expenses and losses, not to mention that not all boaters have homeowner's insurance.
Fortunately, there might be another option to recover damages after a boat accident in Florida: filing a personal injury lawsuit against the at-fault boat operator. When filing the claim, you will have to prove four elements:
Duty of care (the boat operator owed you a duty of care);
Breach of duty (the boat driver breached the duty of care by failing to yield the right of way, speeding, operating the boat under the influence, etc.);
Causation (the boat operator's negligence caused your accident and injuries); and
Damages (you suffered damages because of the breach).
If the operator of the boat involved in your accident is not the owner of the vessel, you may be able to hold the boat owner liable for your injuries and losses. You may be able to sue the owner of the boat if you can prove that the owner knew or should have known that the boat operator posed a danger to others but allowed that person to operate the vessel.
If the boat was defective, you might also be able to pursue a product liability claim against the manufacturer of the vessel or its parts. Talk to a skilled personal injury attorney at Pita Weber Del Prado to determine liability in your boat accident. Call 305-670-2889 for a case review.