Determining Responsibility For A Boat Accident Injury (Is A Liability Waiver An Obstacle?)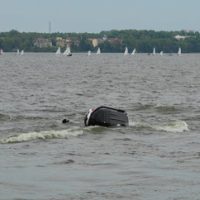 Renting a boat and going for a ride is a popular outdoor activity in Florida. The Sunshine State's climate attracts millions of tourists from all across the globe to get out on the water.
As exciting as boating can be, stories of people getting injured or dying in boat accidents are not unheard of. According to a 2018 report by the U.S. Department of Homeland Security, there were 4,145 boating accidents that involved 633 deaths and 2,511 injuries.
Jet Ski Accident Leaves One in Critical Conditions, Two Others with Non-Life-Threatening Injuries
One recent jet ski accident in Florida reminded locals and tourists alike about the dangers of boating. In the crash that occurred in St. Johns County, one person was hospitalized with life-threatening injuries, and two other victims suffered less severe injuries.
The accident was reported by The Florida Times-Union on August 24th.
The boat accident took place at about 2 p.m. two miles north of St. Augustine Inlet. The victim with life-threatening injuries was rescued by Good Samaritans in a pontoon boat. He was unconscious and in cardiac arrest in the water.
The rescuers performed cardiopulmonary resuscitation on the victim while transporting him to shore where the paramedics took over. After getting a spontaneous breathing response from the victim, he was hospitalized at Orange Park Medical Center and remained in critical condition at the time of publication.
The second victim in the jet ski accident suffered non-life-threatening injuries and was taken to a local hospital. The third victim, meanwhile, was treated by medics and released from the hospital.
The crash is under investigation by Florida Fish and Wildlife Conservation Commission officers.
How to Determine Negligence in Boat Accidents
As in the event of any other personal injury accident, liability for most boat accidents is based on negligence.
With a Miami boat accident attorney by his or her side, a victim of a boating crash can prevail on a claim by proving that another party failed to operate the boat in a reasonably safe manner and his or her negligence or recklessness caused the injury.
Typically, an injured victim can bring a claim against the boat operator, boat rental business, or manufacturer of the boat (if the vessel was defective or not properly maintained).
If a plaintiff is pursuing a claim against the boat operator, he or she might be able to prove that the operator failed to adhere to the standards of care (i.e., by turning the boat the wrong way, choosing to ride in adverse weather conditions, going too fast, causing the boat to capsize by hitting a wave, or failing to have adequate safety equipment onboard).
Can You Still Sue if You Sign a Liability Waiver?
Many victims of such accidents complain to a Miami boat accident attorney that they signed a liability waiver, thinking that the waiver releases the rental business, owner, and/or operator of the boat from liability for injuries.
In Florida, a liability waiver is considered to be not enforceable if it fails to clearly and unambiguously state what rights of the signee are being waived. If the liability waiver includes release from legal liability for accidents, the terms of the agreement must be visible enough for an ordinary person to notice and understand that the right to sue for negligence is being waived at the time of signing it.
Contact an Attorney for Help
If you signed a liability waiver and are wondering whether or not you have a valid boat accident case, talk to our Miami boat accident lawyers at Pita Weber Del Prado. Our skilled attorneys can prove that the liability waiver does not meet the two requirements mentioned above and cannot be enforced.
Get a free consultation to discuss liability in your boat accident. Call at 305-670-2889 today.
Sources:
jacksonville.com/news/20190824/jet-ski-accident-injures-3-in-st-johns-county
uscgboating.org/library/accident-statistics/Recreational-Boating-Statistics-2018.pdf