Local Officials Urge for Speed Reductions Around Popular Biscayne Bay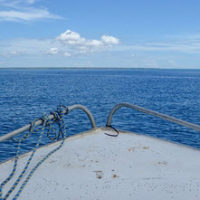 Biscayne Bay has become a hot spot for weekend partiers, travelers, leisure boating and jet-skiing enthusiasts alike. These fun seekers have transformed the area from a peaceful oasis to a loud, overly crowded destination for heavy party traffic and blaring music.
This influx of people can be overwhelming to residents who yearn for the quieter, slower days where swimming was easy, and noise levels were controlled.  The constant influx of visitors, especially on the busy holiday weekends, results in higher incidences of accidents on the water.  Many of these fun seekers are not being cautious or safe in their water activities but instead considering the thrill of the ride over safety.
Excess speeding is becoming a constant, and the waters are more dangerous as a result.  Combine this with possible alcohol consumption and the risk goes up exponentially.  Officials in Miami Beach understand the hazardous situation and are working to address it through speed reductions.
Response of Local Officials
 The Miami Beach commissioner passed a resolution appealing to the Florida Fish and Wildlife Conservation Commission for help with the problem.  The beach commissioner and the Miami Mayor, Dan Gelber, asked that the current 35 mph speed zone around the island become a slow speed zone instead.  Miami Beach officials, as well as Miami-Dade County, are teaming up to also put pressure on the FWC regarding a reduction in speed.
Cause for Concern
The excess numbers of people along with many ignoring the 35 mph speed zone and going much faster has had its share of accidents.  According to the Miami Herald, there was a fatal boating accident off of Government Cut Channel near Port Miami In April.  It resulted in 3 deaths.
The local Marine Patrol has stepped up their enforcement efforts by issuing nearly 140 citations, which, for the area, is quite high.  Citations included careless operations, safety-related offenses, loud noise, and speeding.  With only four law enforcement officers in the marine patrol, it does make it challenging to keep a thorough and close watch on all the activities on the water all the time.
Miami Boating Accidents
From 2014 through 2018, Biscayne Bay saw boating accidents that were largely due to operator inexperience with lack of the appropriate look-out from the vessel.  The results were vessel collisions.  The Miami-Dade government cites the United States Coast Guard statistics which show that at least one person is injured or even killed in a boating accident every 2.5 hours.
When you are injured in a boating accident that was not your fault, you need to seek appropriate medical attention to ensure you see a full and fast recovery.  Then it is vital to seek the assistance of Miami personal injury lawyers at  Pita Weber Del Prado. Our team has been serving the residents of Florida for decades and we will work to fight for your legal justice.
Accidents on the water are a common problem in Miami.  Our skilled Miami boat accident attorneys know the maritime laws and how to build a successful case to cover physical damages, emotional trauma, and the personal property destruction you have endured from your accident.  Your rights are our number one concern, and we don't collect any fees unless we obtain compensation for you. When you have been involved in a Miami boating accident and have a personal injury, call one of our experienced and caring attorneys today to discuss your claim at (305) 670-6666.
 Resources:
nps.gov/bisc/planyourvisit/slow-speed-zones.htm
miamidade.gov/mayor/boating-safety.asp
miamiherald.com/news/local/community/miami-dade/miami-beach/article229632664.html