The Effect of Weather on Boat Accident Liability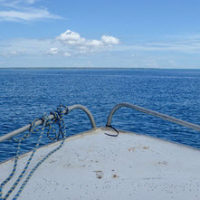 Although the calendar is beginning its annual change from summer to autumn, here in Florida, spending time on the water is a nearly year-long pastime. In fact, while many Floridians may not spend time on the water in the winter months, many visitors from northern climes see the sun, sand, and surf of Florida as an escape from snow, sleet, and slush, and tend to spend time out on the water. And, of course, being out on the water carries with it some risk, whether the boat helmsman is experienced or a first-timer. One of the more difficult aspects about being out on the water, even for the experienced, is weather. Weather will change, and in some cases, will change rapidly, and not every situation is right for every marine vessel. When an accident, caused by weather-related factors, occurs, a personal injury attorney with experience in marine accidents should be consulted to determine who is at fault. Recently, an amphibious marine vessel in Missouri capsized and sank, causing the death of 17 individuals, including an Osceola father and son. The cause of the accident has been attributed to the weather, which whipped up the waves on the lake near Branson. A discussion of how weather can have an affect on a marine accident, and how liability may be assigned, will follow below.
Marine Negligence
Typically, the operator of a marine vessel, much like the operator of an automobile, must operate the vessel in such a manner so as not to cause harm to any passengers or individuals in other boats. Failure to operate properly could open the operator to a lawsuit for negligence for any injuries directly caused by this failure. To prevail in a cause of action for negligent operation of a marine vessel, the injured individual must prove:
The operator of a marine vessel had a duty to operate the vessel in such a manner so as not to cause harm, and he/she failed to uphold that duty; and
The individual suffered an injury as a result of the failure to uphold the duty.
The Effect of Weather-Related Issues on Negligence
As part of the aforementioned duty, the operator of a marine vessel must ensure that weather conditions are appropriate, not only for the activity contemplated, but also for the type of marine vessel used. As an example, the amphibious marine vessel in Missouri was not supposed to be operating in waves greater than two feet; however, four-foot waves were reported on the lake at the time of the capsizing. Additionally, the watercraft was not supposed to be operating in winds of greater than 35 MPH, but near hurricane force winds (73 MPH) were reported. This information was allegedly relayed to the captain before embarkation, but he decided to nevertheless venture out into the water.
Thus, in many cases, even though weather events are naturally-occurring phenomena, fault, and liability, can still be placed on the operator of a marine vessel. A question may remain, however, if a weather event shows up completely unexpectedly, or if an event causes an accident while the operator is actually attempting to steer the marine vessel to shore and out of the way of danger. An experienced personal injury attorney can help sort out in which situations a personal injury lawsuit is advisable, and how to differentiate improper acts from "Acts of God."
Seek Legal Advice
If you or a loved one suffered a marine-related injury suffered because of an accident while on the water, and especially one in which weather played a part in the accident, contact the Miami law firm of Pita Weber Del Prado as soon as possible to ascertain the options to obtain reimbursement for your expenses. Each circumstance is different, and our experience in marine-related injuries will be an advantage to you as they analyze your situation to determine the proper course of action to get you the compensation you deserve. Contact our Miami office today for an initial consultation.
Resource:
finance.yahoo.com/news/2-time-limit-applies-wrongful-015037354.html