How is Fault Determined in School Bus Accidents in Florida?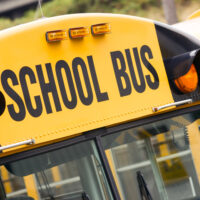 When school buses are involved, determining liability in an auto collision becomes quite complicated. Every single day, more than 25 million American children ride on school buses across the country.
Unfortunately, some of them end up in bus crashes. But determining fault following a school bus accident can be quite challenging given that most school buses in Florida are owned and operated by government entities.
This fact alone makes it difficult to bring a personal injury claim, especially if you are not represented by a Miami personal injury attorney. Claims brought against the government in Florida are subject to stricter guidelines, while state law also imposes shorter time limits for filing these claims.
School Bus Accident in Florida
A recent bus crash in Okaloosa County resulted in injuries. As reported by Northwest Florida Daily News, one person was injured following an auto accident involving a school bus and regular car at an intersection.
The crash occurred at the intersection of North Pearl Street and East First Avenue at around 9 a.m. There were no children inside the bus. It is known that the other vehicle sustained minor injuries.
Determining Fault in a School Bus Accident
When establishing who is at fault in a school bus crash, it is vital to remember that (a) most school buses in Florida are operated and owned by government entities, and (b) multiple parties could potentially be held liable.
Besides the bus driver, liability could be shared with the school bus owner, the school entity, and a local government entity if:
The school bus had maintenance issues
There was a lack of safety measures in place
The driver did not operate the bus with due care
The school entity failed to conduct background checks properly when hiring the school bus driver
There were inadequate or missing traffic signs
Manufacturing or design defects contributed to the accident
The driver did not ensure children's safety before permitting them to approach or exit the bus
Buses carrying children and operating in Miami and other parts of Florida owe a heightened duty of care. Florida law recognized the need for special protection of children, which is why school bus drivers are required to use extreme caution and follow all safety regulations to protect their passengers from harm and hazards.
Potentially Liable Parties in Florida School Bus Crashes
Parties that could be potentially at-fault for the school bus collision involving your child include:
The bus driver
The school entity
The bus manufacturer
The government entities responsible for maintenance of the road, roadway design, and traffic signs
The school district
The owner and operator of the bus
Third-party companies that handle bus repairs and maintenance
Determining fault in your school bus accident depends on not only the nature of the collision but also any specific local regulations that exist in the area where the accident happened. Talk to our Miami personal injury attorneys to establish fault in your school bus collision. Contact Pita Weber Del Prado to receive a case review. Call at 305-670-2889.
Resource:
nrtbus.com/parents/facts-of-bus-riding/
nwfdailynews.com/news/20191218/okaloosa-school-bus-car-crash-injures-one
https://www.pwdlawfirm.com/auto-accidents/miami-chain-reaction-crash-involving-multiple-vehicles-determining-liability/