Common Features of Wrong Way Accidents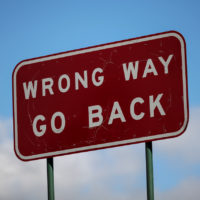 Although automobile accidents, in general, can be horrific and tragic, automobile accidents which involve one driver going the wrong way down a thoroughfare can be especially catastrophic. Most often, these situations occur at night or at dusk or dawn, when visibility is at a minimum. Additionally, and unfortunately, alcohol is usually a factor of these situations as well, making the driver operating his/her vehicle in the proper lane unable to ascertain or anticipate the movement of the inebriated driver. Retaining the services of an experienced personal injury or wrongful death attorney is crucial to obtaining compensation for any injuries or damages suffered as a result of an automobile accident caused by wrong way driving. By way of an illustration of the horrific nature of wrong way automobile accidents, two Florida men were killed when they collided head-on in a collision in which one man was driving the wrong way.
Wrong Way Driving
As alluded to above, and in this Public Service Announcement (PSA) by the Florida Highway Safety and Motor Vehicle Department (FLHSMV), wrong way driving is an issue that is of concern to authorities and other drivers alike. As the PSA notes, in most wrong way automobile accidents, the automobiles involved in the accident typically contact each other head-on. This type of accident accounts for 81 percent of all wrong way fatalities, as head-on collisions are some of the most dangerous and deadly crashes on the road.
To hopefully alleviate these crashes, the FLHSMV offers these helpful tips:
Always drive on the right side of the road, especially at night and during dusk/dawn periods;
Also, especially during these times, do not drive distracted;
Obey all traffic signs, including signs that say "Wrong Way" or "Do Not Enter;"
Look for Florida Department of Transportation dynamic messaging signs for wrong way driver alerts;
Call 911 immediately to report wrong way drivers; and
Immediately reduce speed and pull off the roadway if a wrong way driver appears.
Common Features Contributing to Wrong Way Accidents
In addition to those features discussed above, there are other common features contributing to wrong way accidents. Some of these features include the following:
Missing or not seen signs or markings. As most drivers are aware, the roads of this country are filled with signs and markings, and one of the more conspicuous signs are "Do Not Enter" and "Wrong Way." However, while authorities make every effort to keep people safe by maintaining these signs and markings, in some cases, they are not visible because they are missing, or they are obstructed as a result of either overgrown vegetation or some other obstruction.

Distracted driving. From driving under the influence to driving while putting on makeup, many drivers think nothing of distracted driving. Accordingly, despite the well-known potential hazards of drinking, eating, texting, talking on the phone, putting on makeup, and changing radio stations, there are still drivers who will engage in these activities, and drive into oncoming traffic.

Impaired driving. A subset of distracted driving, impaired driving occurs when a driver is under the influence of any number of substances, such as alcohol or drugs. When impaired, a driver's response time is affected, and he/she may not even be cognizant of the fact that he/she is on the wrong side of the road.
Seek Legal Advice
If you were involved in an automobile accident in which the other driver was going the wrong way, you need the advice of the experienced Miami car accident attorneys at Pita Weber Del Prado. We handle a wide variety of personal injury matters, including automobile accidents, and will use this expertise to your advantage, especially when it comes to determining the value of your personal injury claim. Contact us today for an initial consultation.
Resource:
https://www.clickorlando.com/traffic/at-least-3-vehicles-involved-in-state-road-429-crash
https://www.pwdlawfirm.com/the-police-report-matters-in-your-car-accident-case/