Distracted Driving Awareness: Ways To Reduce Car, Truck, Bicycle, And Pedestrian Accident Risks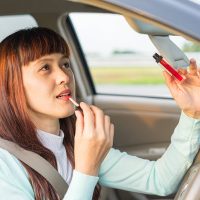 April is Distracted Driving Awareness Month. It calls attention to a common problem on roads throughout the United States and a leading cause of motor vehicle accidents in Miami. Not paying attention and allowing yourself to get distracted significantly increases the likelihood of accidents involving cars, trucks, bicycles, and pedestrians, all of which can result in serious personal injuries. To protect yourself and those you love, find out some of the ways to reduce the risks.
Distracted Driving Puts Everyone At Risk 
During Distracted Driving Awareness Month, local, state, and government officials work together to call attention to one of the most common causes of motor vehicle accidents. According to the National Highway Traffic Safety Administration (NHTSA), close to 4,000 people are killed in distracted driving accidents across the country each year, while hundreds of thousands of others suffer serious personal injury risks. Paying attention is important for all road users. The following tips can help keep everyone safe:
How To Reduce Distracted Driving Car Accidents
Motorists can protect themselves and others on the road by being aware of different behaviors that divert attention from the important task of driving and increase accident risks. In addition to not texting or using cellphones behind the wheel, which is illegal under the Florida Statutes, avoid these distractions as well:
Changing GPS or car stereo settings;
Adjusting your makeup or general appearance;
Drinking coffee or other beverages and eating fast food;
Reaching behind you to attend to children in the back seat.
Reduce Distracted Truck Accidents
Distracted driving among truckers is a major problem that endangers other motorists and can result in multi-vehicle collisions. To protect yourself and others on the road, take these precautions:
Consult maps and GPS devices before your trip;
Avoid changing CB settings while on the road;
Pull over for frequent breaks and avoid eating while driving;
Be aware that the more tired you are, the more likely you are to get distracted.
Bicyclists and Pedestrians Need To Take Precautions As Well
As with any road user, being distracted poses risks for bicyclists and pedestrians as well. To reduce accident risks, follow these tips:
Stay aware of what is going on around you at all times;
Stick to sidewalks and designated bike lanes;
Never assume a driver sees you or will stop;
Be especially cautious at intersections;
Avoid wearing earbuds, which could cause you to miss signs of an impending crash.
Injured In A Distracted Driving-Related Accident? Contact Our Miami Personal Injury Lawyer
Distracted driving increases the risk of car, truck, bicycle, and pedestrian accidents in Miami. If you or someone you love is injured, reach out to Pita Weber Del Prado. We help victims of distracted driving-related accidents get the compensation they need to recover. To discuss your options in filing a claim, call 305-670-2889 or contact us online and request a consultation with our Miami car accident lawyer today.
Sources:
nhtsa.gov/april-distracted-driving-awareness-month
leg.state.fl.us/statutes/index.cfm?App_mode=Display_Statute&URL=0300-0399/0316/Sections/0316.305.html