Driving in the Fog in Florida: Dangers, Safety Tips, and Liability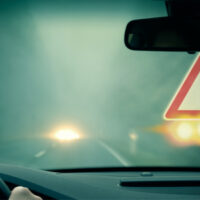 A recent pile-up crash in Virginia that involved nearly 70 vehicles reminded Floridians of the danger of driving a vehicle when there is fog covering the roadways. Fog is not an uncommon phenomenon in Miami and other parts of Florida, especially in early mornings.
Fog is arguably the most dangerous weather condition for both motorists and pedestrians. After all, fog reduces visibility significantly, which requires drivers to exercise extra caution and give their undivided attention to their surroundings and be able to react if traffic stops or other hazards appear.
Fog Causes a Devastating Pile-Up Crash Involving 69 Vehicles
The recent pile-up car accident involving nearly 70 vehicles on a major interstate in Virginia was a reminder to all drivers in the U.S. and abroad to drive defensively and exercise due care when driving in fog.
According to the Miami Herald, the devastating multi-vehicle crash that occurred on Sunday morning, December 22, left dozens of people severely injured, some in critical condition. The pile-up crash in York County near Williamsburg happened just before 8 a.m.
Although no fatalities were reported in the pile-up accident on Interstate 64, it took road crews hours to clear the area and reopen all traffic lanes. While the official cause of the horrifying crash is yet to be determined, both fog and icy road conditions are said to be contributing factors.
A total of 69 vehicles were involved in the crash, while more than 50 people were treated or rushed to hospitals. At least two people were in critical condition, while almost a dozen suffered non-life-threatening but serious injuries. In a separate accident on I-64 that same day, eight cars were involved, though it is not clear if the fog was a contributing factor, too.
Safety Tips for Driving in the Fog
When fog is covering the roadways, follow these safety tips to avoid preventable collisions:
Drive with low beans because high beams cause worse visibility in a heavy fog since they are reflected back off the fog.
Drive at a low speed. The fog creates an illusion that you are driving slowly, so be careful with that. There is nothing worse than driving fast when visibility is low. This may mean that you need to reduce the speed below the posted speed limit.
Use the defroster. Always make sure that your defroster and wipers are in working condition before beginning to drive in the fog.
Leave earlier than usual. Driving in the fog means that you will have to drive slower, which will inevitably make your trips longer. So if you are in a hurry, leave earlier than usual, and be patient.
Liability in Car Accidents Caused by the Fog
Since the fog substantially reduces visibility, the likelihood of a car crash is much higher. It is the duty of the driver to adjust their driving to road and weather conditions. Failure to operate a vehicle with caution may cause you to be fully or partially to blame for the crash.
In other words, you cannot blame the fog for causing your vehicle crash. If the other party failed to drive with extra caution, you might be able to pursue a personal injury claim. Contact our Miami car accident attorneys from Pita Weber Del Prado to determine fault in your situation. Call at 305-670-2889.
Resource:
miamiherald.com/news/nation-world/article238638828.html
https://www.pwdlawfirm.com/personal-injury/reform-advocates-in-florida-seeking-limits-on-personal-injury-damages/