Florida Gov. DeSantis Vetoes Proposed No-Fault Car Insurance Repeal Law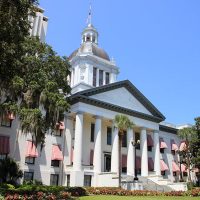 Florida Gov. Ron DeSantis has vetoed the proposed bill that would have repealed the state's no-fault auto insurance system. The veto came amid increased pressure from critics who warned that the repeal law – Senate Bill 54 – would increase insurance rates for many motorists.
Why Did DeSantis Veto the No-Fault Insurance Repeal Law?
DeSantis's veto ends the bill's nearly half-year journey. Lawmakers filed SB 54 on January 15, 2021, and the legislation was cleared in April. The proposed no-fault car insurance repeal law sought to put an end to Florida's mandatory $10,000 in personal injury protection (PIP) coverage.
Instead, Florida motorists would be required to carry at least $25,000 in bodily injury coverage from January 1, 2022. When vetoing the proposed legislation to repeal Florida's no-fault auto insurance, DeSantis explained that the proposed no-fault insurance repeal law "does not adequately address the current issues" for motorists in Florida.
DeSantis also wrote that the proposed legislation might have "unintended consequences" that would negatively affect policyholders and the market as a whole. However, the Governor acknowledged the fact that the current personal injury protection system has "flaws."
Would the Florida No-Fault Repeal Law Increase Insurance Rates?
Many critics of SB 54 argued that repealing no-fault car insurance would increase insurance rates for the poorest motorists. While many legislators voiced support for the bill, others called on Gov. DeSantis to veto the repeal law.
Critics argued that forcing motorists to buy more car insurance would have resulted in more Floridians driving without insurance. Statistically speaking, over 20% of all motorists in Florida are uninsured.
It was not the first time Florida lawmakers attempted to repeal the state's no-fault auto insurance system. However, DeSantis's veto of the proposed legislation means that lawmakers will have to go back to square one if they want to repeal the no-fault insurance law.
How Does Florida's No-Fault Car Insurance System Work?
Florida lawmakers established the no-fault system and required motorists to carry $10,000 in PIP coverage back in 1979. Critics of the repeal law voiced support for the current no-fault insurance system because it does not require drivers involved in car accidents to litigate over fault.
Instead, a driver's PIP coverage provides compensation regardless of fault. In other words, PIP coverage makes individuals responsible for their own injuries suffered in a car crash regardless of fault. People injured in car accidents are compensated directly by their own insurer in Florida.
By contrast, bodily injury coverage would not pay for an injured party's damages and losses until after the insurance company determined fault.
A victim of a car accident cannot sue the at-fault party for their injuries unless they meet a specific threshold established by Florida law. The injured party can file a lawsuit against the at-fault driver if the victim suffers:
Permanent or significant scarring or disfigurement
Permanent injury
Permanent or significant loss of a vital bodily function
Death
Recovering damages through your PIP coverage has its drawbacks. One of them is that you cannot obtain compensation for your non-economic damages such as emotional distress and pain and suffering.
If you or your loved one has been involved in an auto accident, consult with our Miami car accident attorneys at Pita Weber Del Prado to discuss your compensation options. Call 305-670-2889 today.
Sources:
flsenate.gov/Session/Bill/2021/54
iii.org/fact-statistic/facts-statistics-uninsured-motorists
flgov.com/wp-content/uploads/2021/06/SB-54-Transmittal-Letter.pdf