'I Got Rear-Ended in a Car Accident in Florida. Who's at Fault?'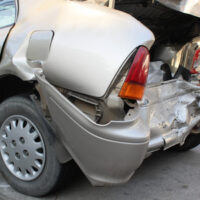 Rear-end accidents are the most frequently occurring type of car crash in the United States, accounting for nearly 30% of all auto accidents in the country. Given that any driver can end up in this type of collision, our car accident attorneys in Miami are often asked, "What should I do if I got rear-ended in Florida?" and "Who's at fault for the collision?"
While many rear-end collisions are not associated with serious injuries, some accidents in which a vehicle crashes into the back of another vehicle may entail considerable financial losses and damages.
In fact, just because you feel fine following the rear-end accident does not necessarily mean that you were not injured at all. Often, car accident injury symptoms are delayed, which means your injury could manifest itself days, weeks, or even months after the rear-end crash.
Seeking Compensation in a Rear-End Car Accident in Florida
Since Florida is a no-fault state, people who were injured in rear-end crashes and other car accidents must seek compensation from their own insurance company. What that means is that you do not need to prove that the other party was at fault for causing the crash. All you need is to file a claim with your own insurer.
Depending on the severity of your personal injury, you may be able to pursue compensation against the other driver involved in your rear-end accident. In Florida, you can file a liability claim against the other party if (a) they were negligent and (b) your injury is considered serious.
Proving Negligence in a Rear-End Collision
In Florida, you need to prove the following four elements of negligence to recover damages after a rear-end collision:
The other party owed you a duty of care;
The driver breached the duty by crashing into the back of your vehicle;
The breach of duty was the direct cause of the rear-end collision; and
You suffered losses because of your injury.
In most rear-end collisions in Florida, the motorist in the back is almost always deemed negligent in causing the accident. Typically, negligent drivers cause rear-end crashes due to speeding, tailgating, failure to maintain a safe distance, and distracted driving.
Florida's Comparative Fault Doctrine in Rear-End Accidents
Although the driver in the back is almost always at fault for causing a rear-end crash, you may still be partially at fault for the collision if your own negligence contributed to the accident. Since Florida follows the doctrine of comparative negligence, your percentage of fault will reduce the amount of compensation that you are entitled to.
In rear-end accidents in Florida, examples of comparative fault are:
Driving with improperly functioning brake lights
Failing to signal your intention to change lanes
Braking suddenly
Driving well under the posted speed limit
If you are deemed partially at fault for the collision, your compensation will be reduced by the percentage of your own negligence. Speak with a Miami car accident attorney at Pita Weber Del Prado to establish fault in your rear-end crash. Call at 305-670-2889 for a case review.
Resource:
nhtsa.gov/sites/nhtsa.dot.gov/files/analyses20of20rear-end20crashes20and20near-crashes20dot20hs2081020846.pdf
https://www.pwdlawfirm.com/auto-accidents/6-warning-signs-that-could-indicate-delayed-car-accident-injuries/