It's Official, Miami Has the Worst Commute in the U.S., a New Study Shows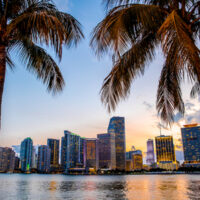 Miami is an ever-expanding city in which rush hour traffic gets heavier and extends longer by the year. As the Miami population continues to grow exponentially, and the city continues to attract millions of tourists per year, more vehicles occupy the city's roads during peak times, and, consequently, hazards increase.
That is how rush hour car accidents may occur in a city so densely populated as Miami. In fact, a new study shows that Miami has the worst commute in the U.S. out of all 50 states and territories.
Miami Has the Worst Commute in the U.S.
As reported by Local 10 citing a study by Moovit, Miami motorists spend 56 minutes, on average, in their motor vehicles or on public transportation commuting to or from work. Miami tied with Los Angeles (which is also notorious for its heavy traffic during peak hours) for the top spot.
Other U.S. cities with the worst commutes in the Top 5 included New York City, Chicago, and Philadelphia. If you think that taking public transportation or walking would be a faster option to commute in Miami, think again.
The study showed that Miami has the worst commute for public transportation. On average, Miami commuters wait more than 16 minutes for the bus, train, or Metrorail. Miami also has the longest pedestrian commute of more than 4,200 feet.
Causes of Rush Hour Car Accidents
Drivers are more likely to cause road crashes during peak hours due to these factors:
Reckless or aggressive driving
Speeding or running red lights to get somewhere faster
Distracted driving
Drowsy driving
Drunk driving
Why Are Miami Drivers More Likely to Crash During Peak Hours?
With a 2015 study suggesting that motorists in the largest U.S. cities are in a less positive mood during peak hours between 5 p.m. and 6 p.m. due to road congestion, it is fair to say that busy roads in Miami contribute to both emotional distress and an increase in car crashes.
If you have a 9-to-5 job and must commute to work every morning and then repeat the commute back home, chances are you are fed up with congested roads in Miami during rush hour.
Peak hours are when Miami highways and streets are at their most congested. Studies suggest that most car and truck accidents occur during peak hours between 3 p.m. and 6 p.m. Interstate 95 and Florida Turnpike tend to be the busiest highways in Florida and are notorious for busy roads and vehicles crashes during rush hour.
Motorists who are in a hurry to get to work or home are often frustrated by traffic conditions, which may make them more likely to engage in reckless behaviors that increase the risk of car crashes.
Thus, motorists are more likely to tailgate other drivers during peak hours, drive aggressively, or have bouts of road rage. These factors contribute to an increased number of vehicle accidents.
But rush hour is no excuse for violating traffic laws or engaging in reckless behaviors. A Miami car accident attorney can help you hold the negligent party accountable for the rush-hour crash. Contact our rush-hour accident lawyers at Pita Weber Del Prado to determine fault in your crash. Call at 305-670-2889 to get legal help.
Resource:
bactrack.com/blogs/expert-center/35042821-the-most-dangerous-times-on-the-road
researchgate.net/publication/282563696_Does_rush_hour_see_a_rush_of_emotions_Driver_mood_in_conditions_likely_to_exhibit_congestion
local10.com/news/local/2020/01/15/congrats-miami-you-have-the-worst-commute-in-the-entire-country/
https://www.pwdlawfirm.com/auto-accidents/how-you-may-be-able-to-sue-an-aggressive-driver-for-road-rage-in-florida/