Red Light Running A Common Cause Of Car Accidents In Miami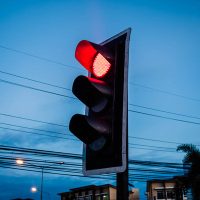 Intersections are one of the most common places for car accidents in Miami to happen and disregarding traffic signs and signals is one of the leading causes. Red light running can result in crashes that cause serious and potentially life-threatening personal injuries. Our Miami car accident lawyer explains more about the dangers.
Messi's American Soccer Career Almost Derailed By Red Light Running Accident
International soccer star Lionel Messi made headlines in June 2023 when he announced that, with his player contract expiring in Paris, he was making the move to the United States to be a part of Major League Soccer. Messi, who hails from Argentina, recently arrived in Fort Lauderdale with his family and is getting familiar with the area as he prepares to start with the Inter Miami CF. Unfortunately, a red light running accident almost derailed his plans.
According to World Soccer Talk, the incident happened after a training session on Friday, July 14, 2023. While it is not clear whether he was driving, the car he was in ran a red light at the intersection of Commercial Boulevard and NW 15th Avenue in Fort Lauderdale and narrowly missed being t-boned by another vehicle. Fortunately, no one was injured. It is not clear whether Messi's car ran the light on purpose or if the occupants were simply still trying to adjust to driving and local traffic patterns in their new home.
Red Light Running Poses Serious Risks
According to the Insurance Institute For Highway Safety (IIHS), red light running is one of the leading causes of car accidents. Any time you are in an intersection once the light turns red, even if it was recently yellow, you put yourself and other motorists at risk. Even in situations where a right on red is permitted, you are still required to stop completely and check for oncoming traffic before making the turn.
The IIHS reports that while over 75 percent of drivers acknowledged how dangerous it is to run a red light, nearly a third reported engaging in this type of behavior at some time in the past 30 days. Common factors that make red light running more likely to happen include:
Aggressive driving and either trying to make it through intersections while the light is yellow or getting a jump on when a red light turns green;
Distracted driving, in which a motorists runs a red light by accident;
Driving while impaired, which can result in confusion at intersections;
Speeding, which is a common factor in intersection crashes and increases the risk of fatal injuries.
Reach Out To Our Miami Car Accident Lawyers
If you are injured as a result of another driver running a red light or engaging in other reckless behavior, reach out to Pita Weber & Del Prado. We provide the professional legal representation you need to get compensation. To request a consultation with our experienced Miami car accident lawyer, call 305-670-2889 or contact our office online today.
Sources:
worldsoccertalk.com/news/messi-in-miami-narrowly-misses-car-accident-after-running-red-light-20230715-WST-443580.html\
iihs.org/topics/red-light-running