Rollover Car Accidents In Miami: Is Your Vehicle At Risk?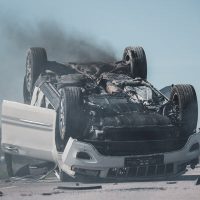 Rollover car crashes are not the most common type of car accident in Miami, but they are the most potentially deadly. They can cause serious, life-threatening personal injuries for the driver and their passengers and can end up triggering a chain collision, impacting other motorists on the road. These kinds of car accidents tend to occur in specific situations and are most likely to happen to a particular type of vehicle. Find out more about the hazards and whether yours is at risk.
Rollover Car Accident In Miami Triggers Multi-Vehicle Crash
A recent rollover car accident on Interstate 95 in Northeast Miami-Dade impacted multiple vehicles and shut down surrounding lanes for hours. According to a July 2, 2023 WSVN News report, the crash occurred shortly after 4:00 a.m., in the vicinity of Ives Dairy Road and Miami Gardens Drive.
Police are continuing to investigate the case and have released only a few details about the incident, what may have caused it, or the number of victims. However, they have confirmed that at least one of those involved suffered fatal injuries.
The Insurance Institute For Highway Safety (IIHS) reports that rollover car accidents are less common than read-end accidents, sideswipes, or other types of collisions. However, due to the violent nature of these crashes, they have the potential to be among the most deadly. They represent nearly a third of all motor vehicle accidents and claim the lives of close to 20,000 drivers and passengers each year.
Rollover Car Accident Risks
Rollovers can happen to any type of taller vehicle. If you drive an SUV, Jeep, mini-van, or pick-up truck, you could be at risk. According to the National Highway Traffic Safety Administration (NHTSA), the larger height of these vehicles makes it harder to maintain stability. Certain types of dangerous driving behaviors can also increase the risks. This includes:
Speeding and going too fast for conditions, particularly around curves;
Making too tight of turns, such as on side streets and in parking lots;
Swerving in and out of lanes abruptly, which can cause tires to lose traction;
Sudden stops, which can cause skidding and increase general rollover risks.
Due to the nature of a rollover car accident, drivers in other lanes are often impacted. If you are involved in this type of crash, it is important to be aware of your options in terms of filing a claim. Other motorists and vehicle manufacturers could be held liable. Even if your own actions were partly to blame for a rollover accident in Miami, you may still be entitled to file compensation.
Request A Consultation With Our Miami Car Accident Lawyers
If you are injured in a rollover car accident in Miami or any other type of crash, Pita Weber & Del Prado provides the professional legal representation you need to get compensation. Before settling with insurers or making any statements, call 305-670-2889 or contact us online and request a consultation with our experienced Miami car accident lawyer.
Sources:
wsvn.com/news/local/miami-dade/fatal-rollover-crash-on-i-95-in-ne-miami-dade-causes-lane-closures/
iihs.org/topics/fatality-statistics/detail/passenger-vehicle-occupants#crash-types
nhtsa.gov/document/rollover-data-special-study-final-report