Self-Driving Cars May Prevent Only a Third of All Car Accidents, a New Study Says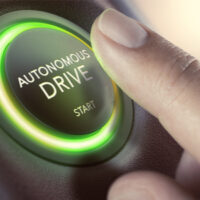 Self-driving vehicles may not be able to prevent most car accidents. A recent study found that autonomous vehicles may not be capable of preventing crashes that involve some of the common driver errors.
The study conducted by the Insurance Institute for Highway Safety (IIHS) showed that autonomous cars could only eliminate about a third of accidents, which is far less than originally estimated by manufacturers.
Driver error accounts for more than 9 out of every 10 auto accidents. While self-driving vehicles can be programmed to identify and avoid traffic hazards, they may not be able to eliminate many types of driver errors related to decision-making and performance.
The IIHS study said that autonomous vehicles would have to prioritize safety over riders' preferences, such as "the need for speed and convenience," in order to prevent most car accidents.
Five Types of Car Accidents Caused by Human Error
Studies show that human error is responsible for 90% of all car accidents. The IIHS study examined over 5,000 auto accidents and broke them down into five categories:
Errors related to sensing and perceiving, including distracted driving, failure to recognize road hazards, and impaired visibility.
Errors related to predicting, including inadequately estimating the speed of other vehicles, misjudging the distance between cars, and failing to estimate what the other motorist intends to do.
Errors related to decision-making and planning, including driving too slowly or too fast for road or weather conditions, aggressive driving, or failing to maintain a safe distance between vehicles.
Errors related to performance, including incorrect or improper evasive maneuvers, overreacting or overcompensating in steering, and other errors that cause the driver to lose control of the vehicle.
Incapacitation caused by alcohol or drug use, medical issues, or drowsy driving (falling asleep behind the wheel).
The use of autonomous vehicles can prevent crashes caused by incapacitation and perception errors because self-driving cars will be equipped with cameras and sensors that would be able to identify road hazards. These two factors are responsible for up to 24% of all vehicle crashes.
Liability in Crashes Involving Self-Driving Vehicles
The IIHS study also referred to a car crash caused by an Uber self-driving car in Tempe, Arizona, in 2018. The fatal crash killed a woman who was standing beside the road. The autonomous vehicle failed to recognize that the woman would cross the road in front of the oncoming car.
When she decided to cross the road, the driverless vehicle failed to perform an evasive maneuver in order to avoid the collision. In 2019, the woman's family members sued Tempe and the state of Arizona for wrongful death.
Whether or not autonomous cars can prevent most accidents is not the only question surrounding self-driving vehicles. When it comes to car crashes involving self-driving cars, the question of liability is often brought up.
There are major product liability concerns related to self-driving cars. The IIHS study mentioned that autonomous vehicles have already been involved in five fatal crashes in the past four years.
If you were involved in an auto accident involving a self-driving or regular vehicle, talk to one of our Miami car accident attorneys at Pita Weber Del Prado. Get a consultation by calling at 305-670-2889.
Resource:
iihs.org/news/detail/self-driving-vehicles-could-struggle-to-eliminate-most-crashes
cyberlaw.stanford.edu/blog/2013/12/human-error-cause-vehicle-crashes#:~:text=Some%20ninety%20percent%20of%20motor,safety%20potential%20of%20vehicle%20automation.
https://www.pwdlawfirm.com/personal-injury/whos-liable-for-your-revel-electric-moped-accident-in-miami/