Speeding A Leading Cause Of Fatal Car Accidents In Miami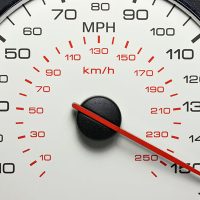 Drivers in our area are known for being aggressive in dealing with traffic. In addition to tailgating and cutting other drivers off, many end up driving either considerably over the speed limit or too fast for road and traffic conditions. Unfortunately, this not only increases the risks of car accidents in Miami but also the likelihood of serious, potentially fatal personal injuries.
Speeding Blamed For Two Recent Fatal Car Accidents In Miami  
Speeding is being blamed for two recent tragic and fatal car accidents in Miami. According to a June 10, 2022 CBS Miami News report, the first crash happened earlier in the month, at N.E. 82nd St. The driver was reported going at a high rate of speed when he plowed into a townhome in the area. All of those in the vehicle were killed in the crash, while two people living in the home suffered serious personal injuries.
The second fatal car accident occurred just two weeks later in the same area. In this case, a Lamborghini crashed and burst into flames, killing the passenger and leaving the driver suffering severe harm. Cellphone and ring camera footage uncovered in the aftermath show the driver was going at a high rate of speed just prior to the crash.
Unfortunately, these types of car accidents are not uncommon in this specific area. It leads to entrance ramps for I-95, where drivers routinely exceed the already high speed limit of 70 miles per hour.
The Impact of Speeding In Car Accidents
Speeding is one of the most common causes of car accidents in Miami and across the United States. Going over the speed limit or even too fast for road, traffic, and weather conditions creates the following risks:
Increases the amount of time needed to come to a stop;
Increases the likelihood of losing control when going around turns;
Decreases the ability to respond appropriately to sudden and unexpected events on the road;
Increases the likelihood of serious personal injuries.
Car accident injuries are more likely to be severe when drivers are traveling at high rates of speed. According to the National Safety Council (NSC), speeding is a factor in nearly a third of all fatal crashes, claiming the lives of nearly 12,000 people each year.
To reduce the risks, drivers are urged to adhere to posted speed limits and to modify how fast they are traveling in heavy traffic, near areas of road construction, during rain or other adverse weather, and anywhere that pedestrians or bicyclists are likely to congregate.
Injured In A Speed-Related Accident? Contact Our Miami Car Accident Lawyers 
When speeding or other reckless behaviors on the part of other drivers leave you or someone you love suffering serious personal injuries, Pita Weber Del Prado helps you get the compensation you are entitled to in a claim. To request a consultation, call 305-670-2889 or contact our Miami car accident lawyers online today.
Sources:
cbsnews.com/miami/news/lamborghini-driver-killed-crash-ne-miami/
injuryfacts.nsc.org/motor-vehicle/motor-vehicle-safety-issues/speeding/#:~:text=Speeding%20was%20a%20factor%20in,attributable%20to%20speeding%20was%2010%2C136.