What Are The Most Common Road Defects On Florida's Roadways?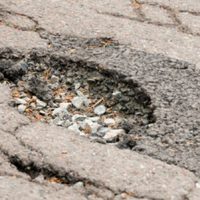 Road defects are a common cause and contributing factor in car accidents on Florida's roadways. There are different types of poor road conditions that can cause devastating crashes and life-threatening injuries.
If you or your loved one has been injured in a car accident caused by road defects, speak with an attorney right away. Get a free consultation from our Miami car accident attorney at Pita Weber Del Prado to determine liability in your collision caused by improper road maintenance or inadequate road design.
Common Defects on Florida's Roads
There are various types of road defects that can be broken down into three categories:
Defects caused by inadequate road design
Defects caused by improper road maintenance
Defects caused by construction issues
Some of the most common types of poor road conditions that contributed to thousands of car crashes across Florida each year include:
Cracks in the pavement
Uneven surfaces
Potholes
Sinkholes
Missing or damaged road signs
Damaged or missing guardrails
Faded lane markings
Inadequate signage
Road debris
Missing or not visible road construction signs
If you have been injured in an automobile accident caused by any of these or other poor road conditions, contact an attorney to determine liability and pursue compensation for your damages.
Who is Responsible for Accidents Caused by Road Defects in Florida?
Generally, government entities are liable for accidents caused by road defects and poor road conditions in Florida. Government agencies have an obligation to conduct inspections and maintain defective or otherwise unsafe roadways.
If a state, city, municipality, county, or another government entity fails to keep the roads in a safe condition, the injured party can sue the entity for the resulting injuries and losses. However, proving that a car crash was the result of a particular road defect may not be easy in most cases, which is why it is essential to contact an attorney to help you hold the negligent or careless government entity responsible for your accident.
However, since Florida is a no-fault insurance state, suing a liable government entity may not be necessary to receive the compensation to which you are entitled. In Florida, you obtain compensation for some of your losses and damages through your own auto insurance policy. If your damages exceed your policy limits, filing a lawsuit may be the only option to obtain maximum compensation from the at-fault party.
Speak with an attorney to discuss your options if your car crash was caused by a road defect. In order to hold a government entity responsible for your accident caused by poor road conditions, you will have to prove that the agency:
Knew or should have known about the road defect;
Had a reasonable opportunity to fix the road defect to prevent the crash; and
Failed to take all the reasonable steps to fix the problem.
Besides, you will have to prove that the government entity's negligence was the direct result of your car accident. Doing so can be tricky, which is why you should consult with an experienced attorney.
Speak with our auto accident attorneys at Pita Weber Del Prado to find out how you can seek compensation for your damages caused by road defects. Call 305-670-2889.