What to Do If You Witness a Car Accident in Miami, Florida?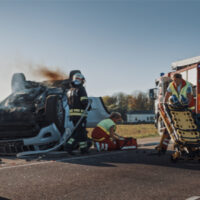 While witnessing a car crash is not nearly as bad as getting into one, it can still be a stressful and traumatizing experience. Florida sees over 400,000 car accidents every year, or about 1,100 collisions per day, according to the Florida Highway Safety and Motor Vehicles (FHSMV).
Unsurprisingly, you are very likely to witness an automobile accident when driving a car or walking as a pedestrian in Miami and other parts of Florida. But what should you do if you become a witness to a traffic crash?
Do You Have a Legal Obligation to Stop if You Witness a Car Crash?
While the Florida Statutes section 316.061 requires all drivers involved in accidents resulting in property damage or bodily injury to stop and remain at the scene, witnesses have no legal option to stop or render aid to the victims.
Thus, if you witnessed a car accident in Florida, you can continue driving and go about your business as long as your own actions did not contribute to the collision. Or, if you want to render aid, you can pull over, offer your help to the victims, and assist in the investigation.
Can You Be Sued for Helping Car Accident Victims?
In theory, yes. But in the vast majority of cases, witnesses who help victims of automobile crashes do not get sued for rendering aid. Many witnesses hesitate to help car accident victims because they do not want to be held liable for causing additional damages or worsening the victim's injury.
However, Florida has a Good Samaritan Act, which can be found in Section 768.13, Florida Statutes, that protects those who render aid to injured victims from liability. The only exceptions to the Act are:
A medical professional who renders aid acts with "reckless disregard";
The Good Samaritan fails to exercise due care when aiding or assisting victims; or
The Good Samaritan acts in bad faith or continues to render aid after the victim objected.
What to Do if You Witnessed a Car Accident?
If you witnessed an automobile collision, do the following:
Make sure that it is safe to stop. After witnessing a car crash, slow down and make sure that it is safe to stop. Pull your vehicle to the side of the road. Turn on your hazard lights before getting out of the car.
Call 911 to report the crash. Many witnesses assume that someone else, including parties involved in the accident, has already dialed 911. However, it is better to have multiple people call 911 to get help on the way than no one at all.
Check for injuries. If it is safe to get out of your vehicle and approach the accident scene, check on the victims. However, do not move anyone involved in the accident unless there is a high risk of fire or explosion.
Talk to the police. If you have time to wait for the police, talk to the responding officer. Provide your name and contact information and tell them what happened.
Write down what you saw. Because memories fade over time, it is best to write down all the details of the crash you witnessed, even if you have already talked to the police.
Witnesses play a key role in car accident investigations, which is why insurance companies or lawyers might contact you down the line to get a statement. If you witnessed a car crash, you could help victims by advising them to contact a lawyer. Here at Pita Weber Del Prado, our Miami car accident lawyers are committed to helping victims seek maximum compensation for their injuries and damages. Call at 305-670-2889 to discuss your case.
Resource:
flhsmv.gov/pdf/crashreports/crash_facts_2018.pdf
https://www.pwdlawfirm.com/car-accidents/6-benefits-of-hiring-a-miami-car-accident-lawyer/