PWD Recovers $5,300,000.00 Against Jackson Memorial Hospital Through Claim Bill Process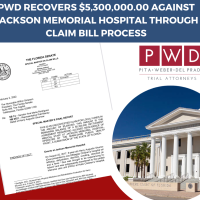 On May 20, 2022, Governor Ron DeSantis signed SB 00074/H6521 into Law providing for the Relief of Harry Augustin "Gus" Shumow for $5,000,000.00 against Jackson Memorial Hospital.  This case started on September 8, 2017, when a laboratory technician at Jackson Memorial Hospital ("JMH") made a tragic and egregious medical error that changed the lives of our client and his family forever.  Because JMH is a sovereign entity, however, its liability for medical malpractice is limited by Florida Statute to $200,000 per person/$300,000 per incident.  There is an exception to this general rule, however.  That exception is known as the "Claim Bill" process.  This process allows for a Legislative "Act of Grace," whereby the Legislature enacts a special law permitting payment of money damages for a jury verdict or settlement above the legally mandated damage caps.  In this case, the parties agreed to a total settlement of $5,300,000.00.  But that agreement is of no value without first passing a law directing JMH to pay that amount.
Following the settlement agreement, PWD hired lobbyist Patrick Bell.  Mr. Bell recruited Miami-Dade County Senator, Ana Rodriguez, and Representative Pat Maney, who agreed to sponsor the Bill.  From there, PWD conducted a trial before the Special Masters for the House and Senate.  Following that Trial, each Special Master prepared a very detailed report with findings of fact and conclusions of law.  The Special Masters each recommended that the House and Senate pass a law funding the settlement agreement.  Thereafter, various House and Senate subcommittees, following debate, recommended passing the bill.  Once through the subcommittees, the Bill went to the House and Senate Floor for a general vote, where it passed by an overwhelming majority.  The bill then went to Governor DeSantis to approve or veto.  And on May 20, 2022, the Governor signed Gus' Claim bill into law.
Now, PWD and the team that it has assembled, which includes Trust and Estates attorneys, financial planners, trust managers, economists, life care planners, and social workers will arrange to invest the proceeds of this settlement so that Gus is able to afford all of the care and treatment that he needs and deserves.
PWD is proud to represent Gus Shumow and his incredible family.
This is a brief post regarding one of the law firm's recent and important cases.  Once this case is closed, PWD will prepare a more detailed post regarding the many facets of this complicated and most unfortunate case.