Cranes Play A Dangerous Role In Miami Construction Accidents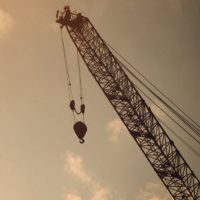 With the amount of construction work in our area, construction accidents in Miami are a serious risk. These can jeopardize the lives of workers on construction sites, as well as anyone nearby. The use of cranes plays a common role in these accidents. Find out more about a recent incident and how crane accidents often happen.
Crane Collapse On Interstate 95 Results In Serious Personal Injuries
Motorists commuting to and from Miami were tied up in traffic due to a recent crane collapse. According to a December 5, 2022 CBS Miami news report, the crane accident happened on a busy section of the interstate in Fort Lauderdale.
A huge construction crane was performing heavy work at roughly 11:00 a.m. on a recent weekday, on I-95 near Sunrise and Broward boulevards. Police reports indicate it was lifting heavy pilings when the ground below suddenly shifted, causing the crane to collapse, striking an aerial platform on the way down.
Two construction workers were injured, one of whom plummeted thirty feet and is listed in critical condition. Three firefighters and a police officer, all of whom were first responders, were injured as well and taken to local hospitals. The collapse happened during a busy mid-morning traffic jam, but fortunately, no motorists were harmed. However, the area was closed for several hours after, impacting numerous people throughout the area.
Crane Accidents Pose Risk For Construction Workers And Others Nearby
Tower cranes, overhead cranes, and floating or barge cranes are all commonly used in construction projects. Unfortunately, they also pose some of the biggest and most potentially life-threatening risks in terms of construction accidents in Miami.
According to The Center For Construction Research and Training, crane accidents are one of the leading causes of death and personal injuries in the construction industry. Crane collapses are particularly common and dangerous, but are not the only way injuries involving cranes can happen. They can also occur due to slip and fall accidents, electrocutions due to contact with overhead power lines, and getting struck by or against objects, such as overhead crane boons or jibs.
When any type of crane accident in Miami occurs, it can impact construction workers and nearby motorists or other passersby. Unfortunately, negligence on the part of crane manufacturers and construction companies is often to blame. This includes:
Defects in assembling and manufacturing;
Failure to provide proper oversight;
Lack of crane inspections;
Failure to take proper safety precautions.
Our Miami Construction Accident Lawyer Protects The Rights Of Victims And Their Families
When a construction accident in Miami happens, those at fault are likely to attempt to avoid liability. At Pita Weber Del Prado, we protect the rights of victims and their families, helping them get the compensation they are entitled to. Get the fierce legal representation you need when filing this type of claim. Call 305-670-2889 or contact our Miami construction accident lawyer online and request a consultation today.
Sources:
cbsnews.com/miami/news/southbound-lanes-of-i-95-shut-down-in-broward-county-after-incident-involving-crane-officials-say/
nccco.org/docs/default-source/crane-safety-studies/crane-related-deaths-in-construction-and-recommendations-for-their-prevention.pdf?sfvrsn=a13f70e_0