What Are the Most Common Types of Construction Accident Liability Claims?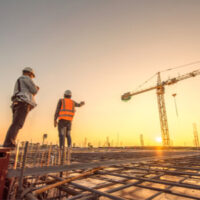 Construction workers go to work hoping that they will return home as healthy as they were when they woke up in the morning. Every construction worker knows that the construction industry is one of the most dangerous fields to work in due to a combination of factors:
Being surrounded by large machinery
Working with hazardous tools and equipment
Working long hours per shift
Faulty or defective equipment
Safety violations due to negligence
These and many other hazards on a construction site may result in injuries and deaths. A recent construction accident in Miami, Florida, serves as evidence of how dangerous working on a construction site is.
Construction Accident in Miami
As reported by CBS Miami, six construction workers were injured when a massive piece of steel rebar impaled two workers. The accident occurred when the steel fell from a crane at a construction site.
Emergency crews and rescuers had to cut through the large piece of steel to free several construction workers, while others were able to get out on their own. The two construction workers who were impaled by rebar in the upper body were hospitalized in critical condition.
According to rescuers, something "malfunctioned" when the piece of steel rebar came loose.
Causes of Construction Accidents
Construction accidents occur for a variety of reasons. Unfortunately, a large percentage of injuries and deaths at construction sites in Miami and other parts of Florida are caused by negligence and carelessness on the part of employers, managers, and supervisors. Other accidents occur due to defective or faulty construction tools or equipment.
Some of the most common causes of construction site accidents are:
Falls from heights
Inadequate training
Collapsed structures
Slip and fall accidents
Scaffolding accidents
Insufficient safety precautions
Crane and hoist accidents
Inadequate use or maintenance of tools and equipment
Falling objects
Types of Liability Claims in Construction Accident Injuries
If you were injured in a construction accident, you might be able to pursue a liability claim to recover damages. There are different types of liability claims that may be available to victims of construction site incidents:
Workers' compensation. Typically, workers who get injured on a construction site are entitled to workers' compensation benefits through their employer's insurance. If you are seeking workers' comp benefits, you cannot sue your employer. Construction workers are not required to prove fault or negligence in order to obtain workers' compensation benefits. If your construction accident involves third-party liability, you can maximize your recovery of damages by obtaining compensation through workers' comp insurance and a third-party liability claim.
Personal injury. If you can prove that a third party's negligence caused or contributed to your injury at a construction site, you may be able to file a personal injury claim in addition to seeking workers' comp benefits.
Product liability. If your construction accident was caused by a defective product, you might be able to pursue a product liability claim against the manufacturer and other parties in the chain of distribution.
Wrongful death. If your loved one died on a construction site, you and other surviving family members might be able to pursue a wrongful death claim to obtain compensation.
Talk to an experienced Miami construction accident attorney to determine the most appropriate type of liability claim in your particular situation. Contact our lawyers at Pita Weber Del Prado to discuss your options. Call at 305-670-2889 to receive a case review.
Resource:
miami.cbslocal.com/2020/08/05/at-least-5-workers-injured-after-partial-collapse-of-concrete-slabs-in-brickell/
https://www.pwdlawfirm.com/personal-injury/how-to-recover-damages-for-injuries-a-hit-and-run-crash-in-florida/