What Compensation Can You Seek After A Scaffolding Accident In Florida?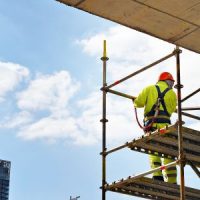 Construction workers do not need to be told that they have the most dangerous occupation in the United States. The construction industry accounts for more than 20% of occupational fatalities in the country.
Scaffolding accidents are a common cause of workers' injuries and deaths on construction sites. For a construction worker, there is nothing scarier than being involved in a scaffolding accident. Working at heights is inherently dangerous, which is why construction companies must provide adequate fall protection.
If you have been injured in a scaffolding accident in Florida, schedule a free consultation with our Miami construction accident attorneys at Pita Weber Del Prado to discuss your options for compensation.
How Do Scaffolding Accidents Happen?
When construction workers perform work at considerable heights above the ground, the risk of falls is significant, especially if the workers' employer fails to follow safety standards imposed by the Occupational Safety & Health Administration (OSHA), particularly 29 CFR Part 1926.
There are various causes of scaffolding accidents on construction sites. However, the vast majority of these accidents occur due to:
Overloaded scaffolds
Lack of supervision
Lack of training
Improperly constructed and secured scaffolds
Broken or missing guardrails
Lack of fall protection
Loose scaffold platforms
Fallen debris hitting the scaffold
If you or your loved one has been involved in a scaffolding accident, it is imperative that you speak with a knowledgeable construction accident lawyer to determine what caused the accident and identify liable parties.
Our lawyers at Pita Weber Del Prado are committed to investigating your particular accident to determine whether or not the construction company followed all applicable safety regulations.
How to Seek Compensation After a Scaffolding Accident?
Typically, a construction worker who has been injured in a scaffolding accident will be entitled to workers' compensation benefits. However, in some cases, the injured worker may also be eligible for compensation through a third-party personal injury claim.
Workers' compensation. Fla. Stat. § 440.02 requires all employers in the construction industry to carry workers' compensation coverage if they have at least one employee. If you sustained injuries in a scaffolding accident, you could seek compensation for your reasonable medical expenses and a portion of your lost wages.
Third-party personal injury claim. If a scaffolding accident was caused due to the negligence or carelessness of a third party, you could seek compensation by filing a third-party injury claim against the negligent person or entity.
Consult with a knowledgeable attorney to determine what compensation options are available in your particular case.
What Damages Can You Recover After a Scaffolding Accident?
Since each case is different, what compensation you can seek depends on the circumstances of your scaffolding accident, the severity of injuries, and many other factors.
If you were injured in a scaffolding accident in Miami or other parts of Florida, you might be able to recover the following damages:
Medical expenses
The cost of rehabilitation and physical therapy
Loss of income
Diminished earning capacity
The cost of vocational training
Pain and suffering
Loss of enjoyment of life
Do not hesitate to speak with an experienced construction accident lawyer if you have been injured in a scaffolding accident in Florida because there is a limited amount of time to file a lawsuit after the accident.
Our attorneys at Pita Weber Del Prado can help. Discuss your particular scaffolding accident by calling 305-670-2889.
Source:
bls.gov/news.release/pdf/cfoi.pdf