E-Cigarettes Not Always the Safe Alternative Smokers Hoped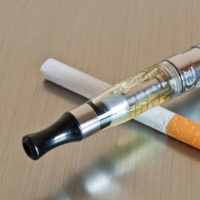 Personal injury lawsuits can stem from any accident, including these created by faulty and dangerous consumer products. Scientific studies have firmly established that smoking cigarettes is damaging to the human body, and is linked to premature death. Tobacco companies, for obvious reasons, did not want the public to have this information, and attempted to mislead consumers for years about the dangers of smoking. This deception did not go unnoticed or unpunished, as numerous companies were ordered to pay injured parties millions of dollars in damages. Electronic cigarettes, or e-cigarettes, are supposed to be the safe answer to the health implications caused by inhaling smoke into one's lungs, but a rising number of recent e-cigarette lawsuits by users complaining of explosions and fires reveal these devices have risks as well. A discussion of the principal causes of injuries from these devices, and possible parties that may be legally responsible for harm caused to a consumer, will follow below.
Source of E-Cigarette Injuries
The health risks of e-cigarettes are not fully known at this point due to a lack of studies and the absence of regulation over the devices generally. Recent reports seem to indicate that there are potential risks from the liquid compounds used to create the vapor people inhale. However, the main danger presented by these devices is the mechanism used to heat the liquid compound and create the vapor that contains the nicotine. Lithium ion batteries are the common component used to power the heating element, and most people will remember the propensity these devices have to explode and catch fire from the Samsung phone recalls that dominated the news in 2016. Many consumers have not been properly warned about the dangers of these batteries, or the need to keep them away from metal objects, such as loose change and keys. Contact with metal can cause the devices to overheat, and, due to their frequent proximity to the human body when explosions and fires do happen, cause serious injuries. Industry representatives maintain user error is the cause of these injuries, but the law does obligate manufacturers to issue adequate warnings about known risks, which are rarely given. Examples of injuries reported when an e-cigarette exploded or caught fire include:
first- and second- degree burns;
broken, shattered or lost teeth;
broken facial bones;
shrapnel wounds following an explosion;
partial loss of fingers; and
cornea burns.
Potential Defendants
If an e-cigarette related injury does occur, an injured party may bring a negligence or product liability claim against a number of different actors. Product liability claims are the most common in these situations, and they seek to hold manufacturers, and others in the chain of commerce, responsible for putting dangerous products on the market. Examples of entities that may be liable in an injury from an e-cigarette are:
the designer;
the manufacturer;
a component manufacturer;
the wholesaler;
the retailer who sold the device;
the marketing company, if it failed to include adequate safety warnings and instructions on use; and
the person using the device when an innocent bystander is injured by an e-cigarette malfunction.
Product-related injury claims are complex cases that require extensive experience and resources to properly present to a judge and jury. Experienced product liability attorneys should be consulted about the viability of bringing a legal claim to recover compensation.
Get Legal Advice
E-cigarettes have the potential to cause severe and life-threatening injuries. If you were the victim of these devices, talk to an attorney at the Miami law firm of Pita Weber Del Prado about your case. These companies should not be allowed to put consumers in harm's way, and Pita Weber Del Prado will fight to get you the compensation you deserve. Contact the office for a free consultation.
Resource:
courthousenews.com/vape-battery-explosion-lawsuits-on-the-rise/