Florida's Product Liability Law and Defective Holiday Gifts and Products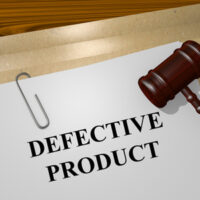 The holiday season is an exciting time of year because you can get a lot of gifts from your family and friends regardless of how old you are. While receiving and giving gifts during the holiday season is a pleasant experience, realizing that a product is defective or dangerous can ruin the holidays for everyone.
What's worse, you can be injured by a defective or dangerous product that you received as a gift during the holiday season. How do you deal with defective products and gifts during the holiday season? Who's responsible for your injuries caused by a faulty gift?
Contact our Miami product liability lawyers at Pita Weber Del Prado to investigate your particular situation and determine how you can seek compensation for your injuries and damages.
Who can be sued for your injuries caused by a defective product?
Under Section 768.81, Florida Statutes, you may be able to sue any parties in the chain of distribution of the defective product or holiday gift that caused your injury. In other words, you may recover damages from the manufacturer, designer, distributor, wholesaler, retailer, and other responsible parties.
Consult with a knowledgeable lawyer well-versed in Florida's product liability law to help you identify all liable parties in your particular case.
Types of product liability claims in Florida
If you sustained an injury as a result of using a defective or inherently dangerous product, you might have grounds to pursue one of these three types of product liability claims:
Manufacturing defect. If the manufacturer made a mistake during the manufacturing process and that defect caused your injury, you have a right to file a product liability lawsuit to recover damages.
Design defect. If the product's engineer or designer made the product inherently dangerous before the manufacturing process began, you might be able to sue for a design defect.
Marketing or labeling defect. A marketing defect, also known as a warning or labeling defect, occurs when the manufacturer and other parties in the chain of distribution fail to adequately warn consumers about the dangers of using the product.
Do you have a valid product liability claim?
If you or your child was injured while using a defective product that was received as a holiday gift, ask yourself the following questions to determine whether or not you can sue the manufacturer and other responsible parties:
Does the product's design make it inherently unsafe or dangerous?
Is the product fit and safe for its intended purpose?
Does the product include adequate warning labels and instructions?
Does the product match its description?
Were you warned about the product's dangers or the defect before you purchased, received, or used the product?
Dealing with product liability claims is never easy, but even more so when a defective product is a holiday gift received from someone else. It is vital to consult with an experienced product liability lawyer in Miami to conduct a thorough investigation and determine whether you can sue the manufacturer and other liable parties for manufacturing, designing, or selling the defective product.
Schedule a free consultation with our attorneys at Pita Weber Del Prado by calling at 305-670-2889.
https://www.pwdlawfirm.com/auto-accidents/how-to-seek-a-property-damage-claim-when-a-car-accident-didnt-result-in-injuries/