Do's And Don'ts When Dealing With Insurers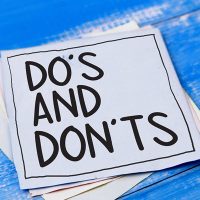 Insurance is designed to protect people from financial losses when unexpected events happen. However, insurance companies have grown into multi-billion dollar businesses. Rather than helping customers, their focus is primarily on protecting profits. As a result, it is not uncommon for them to either deny, dispute, or otherwise downplay claims.
When dealing with insurers and their representatives, our Miami insurance dispute lawyer urges caution in what you do or say. The following are some simple tips that can help protect your rights in obtaining a settlement.
Insurance Company Tactics
According to the Insurance Information Institute (III), the insurance industry takes in net premiums worth more than $1.25 trillion each year. Insurance executives are paid lavish amounts for making money for their companies. In addition to yearly increases in premiums, one of the ways they protect their profits is by avoiding paying out on claims.
When dealing with insurers, it is important to be aware of tactics they use to save themselves money. The following are among the most common:
Disputing claims: There are numerous ways an insurer can dispute your claim. They may accuse you of not following appropriate timelines for reporting, mistakes in completing required paperwork, or say you violated the terms of your policy.
Downplaying claims: This is another common practice and usually involves disputing the total amount of property damages you suffer, the extent of your personal injuries, or the amount you will need to fully recover.
Denying claims outright: Do not be surprised if the insurance company denies your claim outright, either blaming you for your losses, disputing how they happened, or saying you were not covered. 
When Talking To Insurers
Understanding common tactics insurers use to deny or downplay claims is important in negotiations. It is also important to use caution both in what you say or don't say:
Do report any type of accident promptly;
Do not consent to a statement without speaking with an attorney first;
Do provide basic details about what happened;
Do not speculate on the cause or who was to blame;
Do gather receipts for all your expenses;
Do not neglect to get medical care for injuries, regardless of severity;
Do be aware that any immediate settlement offers are likely to be significantly less than what they deserve.
Do not rule out taking your case to court.
In cases where insurance company claims are disputed or the company engages in unfair practices, you may have the right to file a lawsuit against them and others involved through the Broward County Court.
Discuss Your Case With Our Miami Product Liability Lawyer
You only have one chance to get the compensation you are entitled to from insurers. Once you accept a settlement, you are waiving your rights to any future claims. To protect yourself when dealing with these companies and to help ensure you get the maximum you deserve, reach out to Pita Weber Del Prado. Call 305-670-2889 or contact our Miami insurance dispute lawyer online and request a consultation today.
Sources:
iii.org/publications/a-firm-foundation-how-insurance-supports-the-economy/introduction/insurance-industry-at-a-glance
browardclerk.org/