Disputing a Denial of Sinkhole Property Insurance Claim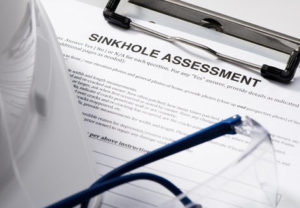 Florida is generally considered a very desirable place to live due to the warm climate and abundant access to beaches. However, no place is free from natural threats, and Florida has an abundance that residents must keep in mind. From hurricanes to tornadoes, wildfires, and lightning strikes, Floridians must constantly be on guard for natural disasters that could threaten their safety and homes. One particular issue that keeps coming up again and again in recent years is the problem of sinkholes. Sinkholes are popping up throughout the state, and insurance companies are increasingly denying property damage claims to avoid rising costs. Disputing a denial of insurance coverage can be a lengthy process, but is necessary to ensure a home does not suffer additional damage or pose an unreasonable danger to the occupants.
Coverage Requirements

All insurance companies in the state that offer property coverage must include "catastrophic ground cover collapse" in every policy. This phrase is how the law describes damage caused by sinkholes. The mandatory basic coverage only applies if the ground collapse is so severe that the home is condemned and declared uninhabitable. In order for property damage to qualify as a "catastrophic ground cover collapse," it must derive from:
a sudden collapse of the ground surface;
an indent in the ground that is clearly visible to the naked eye;
structural damage to the building; and
the condemnation of the home by governmental authorities.
Damage to the foundation that is limited to cracks or settling is specifically excluded from coverage. Additional sinkhole coverage options must be offered, for an additional premium.

Investigating a Claim

When a policyholder files a claim for sinkhole-related damage, the insurance company must follow a specific procedure to process and decide the claim. Note, though, that a sinkhole claim must be filed within two years of discovery, or the claim is barred. When a valid claim is filed, the insurer must first conduct an inspection of the policyholder's property to see if possible sinkhole damage exists. If so, it must then hire a professional engineer or geologist, paid for at the insurer's expense, to verify the cause and indicate how to stabilize the ground and fix the foundation. If the insurer denies the claim without engaging the services of an engineer or geologist, the policyholder can demand this inspection, but is initially responsible for 50 percent of the fee or $2,500, whichever is less, and is entitled to reimbursement from the insurer if the inspection report determines that a sinkhole caused the damage.

Disputing a Claim Denial
If a policyholder believes a sinkhole claim was incorrectly denied, he/she has the right to file a lawsuit challenging the insurance company's action. Insurance companies often deny claims in the hope the policyholder will not take the time or effort to prove coverage exists. The most direct way to dispute the denial of a sinkhole claim is to obtain a report from another professional engineer or geologist that contradicts the earlier report that found no sinkhole damage exists. In fact, it may be worthwhile to obtain contradictory reports from several engineering experts to give more weight to the sinkhole claim. It is important to note that insurance companies can be required to pay a policyholder's lawyer fees if the insurance company issued an incorrect denial of coverage. This rule puts an important weapon in a plaintiff's arsenal that makes it less onerous to pursue an insurance company for payment on a valid claim.
Consult an Lawyer
If you have damage to your property that you believe was wrongfully excluded from coverage by an insurance company, talk to a lawyer about disputing the finding in court. An experienced lawyer will know how to attack the company's arguments, and get you the money you need to makes repairs. The Miami law firm of Pita Weber Del Prado has a track record of succeeding in these cases, and is available to evaluate the merits of your situation. Contact us for a free consultation.
Resource:
leg.state.fl.us/statutes/index.cfm?App_mode=Display_Statute&Search_String=&URL=0600-0699/0627/Sections/0627.706.html