How to Know if Your Insurance Company is Acting in Bad Faith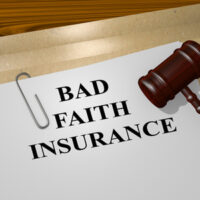 If you were injured in a car accident or your home was damaged by a hurricane, you will most likely be dealing with an insurance company. Unfortunately, insurers do not always act in good faith.
Dealing with an insurance company can be a confusing and overwhelming process, and, unfortunately, most people do not understand their legal rights when filing an insurance claim. For this reason, it is vital to seek legal counsel from an experienced attorney to help you obtain the compensation you deserve and prevent the insurer from evading its obligations to you.
Signs That Your Insurer is Acting in Bad Faith
If you are currently dealing with your insurer, it will be a good idea to check out this list of signs that your insurance company is acting in bad faith.
Denying your claim for no good reason or without explanation
Unreasonable delaying your claim or investigation
Offering you less than you deserve
Making unreasonable documentation requests
Failing to uphold its promises
Refusing to pay a legitimate claim
When an insurance company does not fulfill its basic duties to you, you should not hesitate to speak with a Miami insurance coverage dispute attorney. You need to be able to recognize insurance bad faith practices before they jeopardize your legal claim. A skilled lawyer will help you fight for your legal rights and make your insurer honor your claim and keep its promises.
What to Do if You Believe That Your Insurance Company is Acting in Bad Faith
If you believe that your insurance company is acting in bad faith, the first thing you should do is start gathering evidence and documenting every step. Keep records of all communications with your insurer and make copies of your insurance policy.
Also, it would be helpful to keep notes during your conversations with an insurance claims adjuster. Above all, contact an attorney to review your particular case and determine whether you can sue your insurance company for acting in bad faith, as provided in the Florida Statutes Section 624.155.
If a knowledgeable lawyer can prove that your insurer is acting in bad faith, they will help you file a complaint with Florida's Department of Insurance.
What if Your Insurance Claim Was Denied in Bad Faith?
While your insurance company may have the right to deny your claim, the insurer is required to provide you with a reasonable explanation in writing for the denial of your claim. Your claim can be denied if you have not fulfilled the terms of the insurance contract, your claim is fraudulent, or the claim is not covered by your policy.
To determine if your insurance claim was denied in bad faith, it is vital to consult with an experienced lawyer. If you believe that you are dealing with a potential bad faith claim, do not hesitate to contact our Miami insurance coverage dispute attorneys at Pita Weber Del Prado. Our lawyers will help you navigate the insurance claims process and determine whether you can sue your insurer for acting in bad faith. Schedule a consultation with our lawyers by calling at 305-670-2889.
https://www.pwdlawfirm.com/insurance/5-things-to-do-if-your-insurance-claim-was-denied/