Pita Weber Del Prado Celebrate One Year!!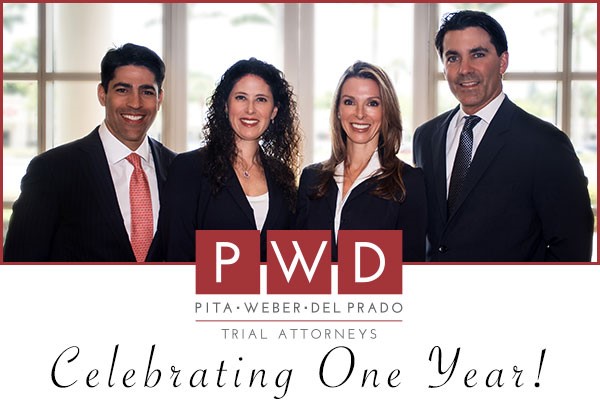 After several years of collaboration and shared cases, Weber Law Firm and Pita Del Prado merged to form a new partnership, Pita Weber Del Prado.  We are now upon our first anniversary as partners and we are proud of our united efforts as trial lawyers serving the South Florida community. Pita Weber Del Prado was built to enhance its practice areas and improve client relationships, through more personal service and efficient management.
Our first year has been full of several wonderful activities and accomplishments. Shannon del Prado has had a dynamic term as President of the Miami Dade Trial Lawyers Association (MDTLA), fighting to create a level playing field for justice and to strengthen the presence of the MDTLA in our community. The firm has continued to volunteer in various community and philanthropic activities.  Shannon del Prado and Rosanna Weber supported victims of the Ecuador Earthquake through partnerships with Area Stage Company and Fundación Chichi Puig. Randy Weber hosted courtroom tours for elementary school students and Skip Pita continues his proud service on the Board of the Florida Justice Association (FJA). Between the two of them, Skip and Randy are on the FJA's auto, medical malpractice, and membership committees.
The firm also engaged in fundraising for quality judges to serve on the bench, and supported other candidates who strongly support the civil justice system.  For its clients, Pita Weber Del Prado has successfully concluded cases involving life insurance claims, medical malpractice, Uber and other motor vehicle crashes, negligent security, and premises liability.
During this anniversary celebration, we are especially thankful for the trust our clients place in us and for the unwavering support of our family, friends and colleagues.
Thank you,
H.K. Skip Pita, Randy Weber, Rosanna Weber and Shannon del Prado
Save