Legislature Seeking to Extended Damage Caps to Medical Malpractice Cases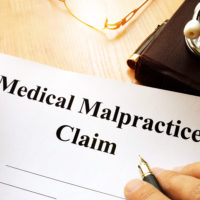 Suffering a medical injury can be devastating, both from a pain perspective as well as financially. Knowing the final tally for medical bills can take years, and leave a family financially ruined. Thus, shouldering the pain and financial burdens of the injury, knowing that the fault of the injury explicitly lies with another individual who did not act according to a proper standard, can have dire consequences. Retaining the services of an experienced medical malpractice attorney can be crucial to ensuring that an injured individual receives compensation for his/her injuries suffered by a medical professional. However, in a situation somewhat related to a previous post on the capping of non-economic damages in personal injury matters, the Florida Legislature is considering reviving the law to cap non-economic damages in medical malpractice matters.
The New "Old" Law
As stated above, the Florida House of Representatives, in an effort to curb what they view to be excessive medical malpractice jury awards, wants to reinstate a law, previously ruled unconstitutional by the Florida Supreme Court, which would limit the amount a jury can award for certain non-economic damages in medical malpractice cases. These non-economic damages include the following:
Pain and suffering;
Inconvenience;
Physical impairment;
Mental anguish;
Disfigurement;
Loss of capacity for enjoyment of life; and
Other nonfinancial losses the claimant is entitled to recover under Florida's Wrongful Death Act.
Pursuant to the bill, the cap would be set at $500,000 per claimant, with no individual practitioner being liable for more than $500,000. If the result means the injured individual is in a persistent vegetative state or death, then the cap is raised to $1,000,000. Further, the $1,000,000 cap would also apply, even in the absence of a persistent vegetative state or death, if the trial court determines that a manifest injustice would occur unless increased noneconomic damages are awarded, based on a finding that the noneconomic harm sustained by the injured patient was particularly severe, and that the injury was catastrophic in nature.
As mentioned, the proposed legislation reinstates the law as of 2003, as it stood, before being  declared unconstitutional. Specifically, the new law would indicate that the Supreme Court's decision was decided contrary to legislative intent and existing case law interpreting the equal protection clauses of the Florida and federal constitutions.
Types of Damages in Medical Malpractice Matters
Generally, damages in medical malpractice matters falls into one of the following three categories:
Economic damages, which are objective and verifiable monetary losses resulting from the injury. These can include past and future medical expenses, loss of past and future wages, loss of employment or business opportunities and any other expense that is quantifiable and reimbursable.
Non-economic damages, which are damages that are subjective according to the particular injured individual, and are more difficult to calculate. Listed above, these damages are not quantifiable by receipts.
Punitive damages are intended to punish and deter reckless actions committed through malice. Although rare, this type of damages is awarded if the medical malpractice is particularly egregious, and are intended not to compensate, but to punish the wrongdoer.
Seek Legal Advice
If you recently suffered an injury due to an error by a medical professional, and you are curious as to how you can be compensated for the injury, as well as any non-economic damages, such as pain and suffering, contact the attorneys at Pita Weber Del Prado. We represent injury victims in a variety of circumstances and will educate you on the possible avenues of recovery. If we believe recovery is possible, we will work to obtain the best possible result. Further, in light of this possible law, time is definitely of the essence. Contact our Miami office today for an initial consultation.
Resource:
theledger.com/news/20190313/fla-house-seeks-to-revive-malpractice-caps