Medical Records and Medical Malpractice Lawsuits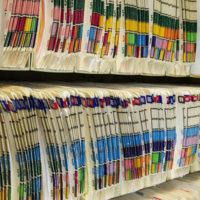 Almost every time a person visits a medical facility for an evaluation, and definitely each time someone is a new patient, a large stack of forms must be completed relating to the person's medical history, and usually a family medical history as well. Medical records form the center of most medical malpractice cases, and are frequently crucial to supporting the foundation of a negligence claim. Forms completed by a patient typically represent a small part of that person's full medical record with a provider because there are regulations that obligate doctors and other staff members to fill out paperwork every time a procedure is performed, a consultation is attended, or communication with the patient is made. Thus, the volume of documents in the average medical file is quite large, and can be truly intimidating for those experiencing complex and/or chronic conditions. Because of the sensitive information contained within these documents, laws exist that limit who has access to patient files. However, patients are supposed to have free access to all their medical records at any time and for any purpose, including in relation to a potential malpractice claim. However, when an adverse event occurs, medical facilities do not want to release records because of the liability they could potentially expose. A fight over Florida patients' access to medical records may be considered by the U.S. Supreme Court, which has been asked to decide whether the clause guaranteeing disclosure of certain patient information is trumped by a federal patient-safety law. A discussion of when providers must release records, and how they are permitted to use patient information in a malpractice suit, will follow below.
Release/Disclosure of Records
Florida law requires medical providers to provide copies of treatments, including diagnostic procedures, and examination records when requested by a patient or the patient's legal representative in a "timely manner" and without delaying the release of the information to conduct a legal review. Further, providers are expressly prohibited from providing or discussing a patient's records with anyone other than the patient, his/her legal representative, other providers involved in the patient's treatment, or anyone authorized by the patient. Additionally, the Florida Constitution gives patients the right to ask a provider about obtaining records on adverse medical events, which are documents that show negligent behavior by a provider that led to a patient suffering harm or death.
Use of Patient Records in Malpractice Suits
The same records that an injured party will use as the basis of his/her case are also used in part by the defense to argue that a doctor's conduct was not negligent. Thus, the requirement to hold a patient's records confidential that is noted above is expected if a provider anticipates being named as a defendant in a medical malpractice case when they are authorized to show the records to other medical providers to obtain opinions about potential liability. Also, as a prerequisite to initiating a malpractice claim, injured parties are required to consent to the release of protected information by the defense to current and past medical providers who are/were treating the injured party for the underlying condition or injury alleged in the claim. Importantly, this release expressly permits defendants to interview an injured party's medical providers outside of his/her presence or in the presence of his/her attorney. Unfortunately, this stipulation puts the injured party in a vulnerable position because there is no way to know what information is discussed in these communications or how the information will be used. This reality makes it vitally important to have an experienced medical malpractice attorney handling one's case, as they can anticipate and better respond to the surprises a defendant may try to employ.
Get Help
Medical malpractice cases are highly emotional and complex matters that need a strong and experienced attorney to properly investigate and present. The Miami law firm of Pita Weber Del Prado understands the pain and betrayal you are experiencing, and will fight to get you the compensation you deserve. Contact us today for a free consultation.
Resource:
orlandosentinel.com/news/politics/political-pulse/os-medical-records-fight-20170922-story.html