Proposed Constitutional Amendment Seeks to Limit Records in Medical Malpractice Cases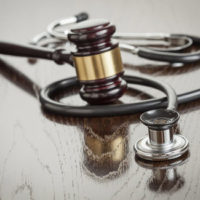 Seeking justice following an injury from a doctor or other medical professional is a natural response to a situation that violates the basic trust people place in the health industry. Medical malpractice cases allow parties injured by a health provider to receive compensation, but a successful claim requires a large amount of complex medical evidence to prove the doctor acted in a negligent or reckless manner. Gathering information from the injured party's medical record, as well as other instances of bad outcomes following treatment by the same doctor or facility, are important building blocks to proving the provider's legal liability. For obvious reasons, doctors do not want to release potentially damaging information to malpractice plaintiffs, and will only comply with such requests if mandated by the law. Florida medical malpractice law tends to favor doctors and the medical establishment by requiring an injured party to complete a number of steps before being permitted to formally file a lawsuit, but an amendment to the Florida Constitution passed in 2004 attempted to give injured patients some security by requiring medical providers to release adverse incident reports. However, a member of the Florida Constitution Revision Commission, a group that meets every 20 years, wants to curtail the reach of this provision by restricting the use of this information in malpractice cases. A discussion of how the Florida Supreme Court clarified the reach of this records provision in recent months, and how the proposed revision to the amendment could impact medical malpractice cases, will follow below.
Florida Supreme Court Decisions
The Court issued two decisions over the past year that directly relate to the release of records in medical malpractice cases. The need for multiple decisions on this issue was due to the consistent resistance medical providers put up when faced with complying with the constitutional provision. The first case overturned a lower court decision that would have permitted a hospital to withhold records related to adverse medical events prepared for litigation merely because they were prepared by an outside consultant instead of through the normal peer-review process. The Supreme Court wanted to prevent medical providers from outsourcing adverse incident reports to third-party organizations for the purpose of avoiding discovery obligations in malpractice suits. The second case held that a federal safety patient law would not overrule the Florida requirement to release adverse medical reports to prospective plaintiffs. Critics of these decisions argue they will discourage medical providers from investigating adverse incidents for fear of exposing themselves to liability, and thereby add an additional risk to patient safety.
Proposed Revision to the Amendment
To mitigate the effects of the recent Florida Supreme Court decisions, a member of the Amendment Commission proposed to a revision of the adverse incident reporting provision, which would specifically excuse compliance if the information is protected by federal laws or regulations related to patient safety. Further, the revision would also shield these records if created at the direction of an attorney or for purposes of litigation. If passed, these changes could make it considerably more difficult for injured plaintiffs to get the information needed to support their claim, which could reduce incentives for medical facilities to correct problematic behavior or treatment protocol.
Get Help
Medical malpractice claims are emotionally and physically taxing, and complicated to build and present. To avoid unnecessary delays or damage to the strength of your case, contact the experienced attorneys at Miami's Pita Weber Del Prado to evaluate your claim. They have years of experience and resources to bring the best possible case, and are dedicated to getting justice for their clients. Contact us for a free consultation.
Resource:
leg.state.fl.us/Statutes/index.cfm?Mode=Constitution&Submenu=3&Tab=statutes&CFID=201729575&CFTOKEN=811b8824ca2cd22b-CFA3A47C-F2F1-55B2-234225CA1FD11C20#A10S25