Protecting Yourself Against Plastic Surgery Mistakes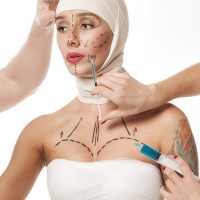 A well-known plastic surgeon was recently accused of medical malpractice in Miami. A woman who had a breast augmentation and an abdominoplasty claims the doctor failed to provide the proper aftercare, causing her to suffer disfigurement and potentially life-threatening personal injuries. If you are considering having work done, use caution in choosing a provider. Our Miami medical malpractice lawyers offer some tips on what to look for.
Miami Plastic Surgeon Faces Fourth Medical Malpractice Lawsuit 
Miami plastic surgeon Leonard Hochstein is a familiar name to many people. Not only is he married to "The Real Housewives of Miami" star Lisa Hochstein but he is also renowned as the 'boob God' of South Florida. Unfortunately, his reputation has suffered in recent years after several lawsuits were filed against him by patients. According to a March 21, 2022 Page Six report, in addition to the most recent case, he was previously sued by three patients during 2019 and 2021. The victims claim they suffered open wounds, infections, deformities, physical pain, and mental anguish in the aftermath of procedures due to the doctor's alleged negligence.
For his part, Hochstein vigorously defends himself and his reputation as a plastic surgeon, insisting in the most recent medical malpractice claim that a surgical assistant was to blame. In another case, he blamed the victim's lack of compliance with clear and direct doctor instructions. Considering the thousands of procedures performed during his career, these lawsuits represent just a fraction of patients.
Protecting Yourself Against Medical Malpractice When Getting Plastic Surgery
Medical malpractice involves negligence on the part of a doctor or other providers, either in failing to follow standard procedures or to take reasonable precautions in protecting their patients. While most people are familiar with stories of 'plastic surgery gone bad', The National Institutes of Health (NIH) advises that it actually represents less than five percent of all reported medical malpractice claims.
At the same time, it is important to be aware that roughly 15 percent of all plastic surgeons are sued for medical malpractice each year, or roughly one in seven. If you are considering getting work done, take these precautions to protect yourself:
Make sure your doctor is certified by the American Board of Plastic Surgeons.
Ask around and select someone with experience and great reviews from past clients.
Communication is a top priority and you should feel comfortable discussing goals and voicing concerns.
Ask about support staff and privileges at local hospitals.
Check their physician profile and any disciplinary records through the Florida Department of Health.
Plastic Surgery Errors? Contact Our Miami Medical Malpractice Lawyers 
At Pita Weber Del Prado, we understand how devastating plastic surgery errors can be. In addition to cosmetic harm, botched procedures and a lack of aftercare can put your health at serious risk. If you have suffered complications or personal injuries, call 305-670-2889 or contact our Miami medical malpractice lawyers online and request a confidential consultation to discuss how we can help.
Source:
pagesix.com/2022/03/21/plastic-surgeon-leonard-hochstein-sued-for-malpractice-again/