Who's At Fault in Rear-End Motorcycle Accidents in Florida?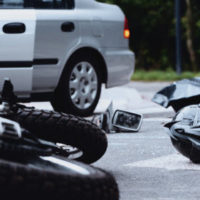 Rear-end collisions account for nearly 30% of all car accidents in Florida and other parts of the United States. A rear-end crash can cause minor or severe injuries depending on the size of the vehicles, speed, and other factors.
For a motorcyclist, a rear impact can be devastating and, in some cases, a fatal experience. Motorcycle accidents that involve the rear-end collision are deemed the "most harmful event" for motorcyclists, according to the National Highway Traffic Safety Administration.
Many motorists – both car drivers and motorcyclists – assume that striking another vehicle from behind equals the fault of the rear vehicle. However, there are cases when the driver or motorcycle rider in the front shares fault or is solely responsible for the collision.
Regardless of whether your crash involves a biker who was struck from behind or one who hit another vehicle from behind, a Miami motorcycle accident attorney can help seek financial recovery in either scenario.
Motorcycle Rear-Ended by a Passenger Car in Florida
Last week, a 56-year-old motorcyclist was critically injured in St. Petersburg, Florida, after a passenger car collided with the rear end of the bike. According to The Tampa Bay Times, the collision occurred on I-275 just south of 54th Ave. S at around 9:35 a.m.
The motorcycle crash involved three vehicles, a 2020 Chevrolet Malibu, 2002 Honda motorcycle, and Nissan Rogue. A Massachusetts native behind the wheel of the Chevrolet was traveling north when she failed to slow down as traffic ahead of her did, which caused her vehicle to hit the Honda motorcycle ridden by a man from Gulfport.
The rear impact propelled the bike forward, where it hit the rear end of the Nissan driven by a 35-year-old woman from Bradenton. The two vehicles careened into the outside lane, where the front of the Chevrolet collided with the front of the Nissan. The three vehicles came to a stop in the northbound lanes. The motorcycle rider suffered critical injuries.
All northbound lanes on I-275 were shut down for a few hours to allow law enforcement to investigate the scene.
Fault in Rear-End Motorcycle Accidents in Florida
Motorcyclist fatalities account for 14% of all traffic deaths in the U.S. Motorcycle riders are 28 times more likely than drivers and occupants of passenger cars to die per vehicle mile traveled.
A rear-end crash is one of the most dangerous scenarios for motorcyclists and their passengers as they are more likely to die in these collisions compared to other types of accidents. That is because motorcycle occupants are more likely to fall from or fly off the bike when struck from behind.
A rear-end motorcycle accident falls into one of these categories:
The motorcycle is struck from behind by a car.
The motorcycle strikes another vehicle from behind.
In either scenario, a motorcyclist and car driver can suffer life-threatening injuries. But who is at fault for rear-end collisions involving motorcycles? More often than not, the motorist who was following is deemed at fault. However, there are cases when the party who was rear-ended is found at fault, mainly because he or she came to an abrupt stop in the middle of the road or was driving too slowly.
Consult with a Miami motorcycle accident attorney if you were rear-ended by another vehicle or your bike hit a car from behind. Contact Pita Weber Del Prado to discuss fault in your case. Call at 305-670-2889 today.
Resource:
crashstats.nhtsa.dot.gov/Api/Public/ViewPublication/812148
iii.org/fact-statistic/facts-statistics-motorcycle-crashes
nhtsa.gov/sites/nhtsa.dot.gov/files/analyses20of20rear-end20crashes20and20near-crashes20dot20hs2081020846.pdf
crashstats.nhtsa.dot.gov/Api/Public/ViewPublication/810834
tampabay.com/news/transportation/2019/11/21/injury-crash-involving-motorcycle-closes-northbound-lanes-on-i-275/
https://www.pwdlawfirm.com/personal-injury/scooter-rider-killed-in-motor-vehicle-collision-in-fort-lauderdale-florida-2/