Evidence In A Negligent Security Claim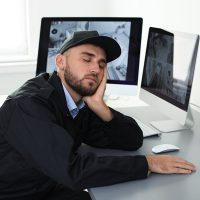 When property owners and managers fail to take the proper security precautions to protect residents and visitors, they can be held liable for personal injuries suffered as a result. Our Miami negligent security lawyer explains more about these cases and the types of evidence needed in filing a claim.
Examples of Negligent Security
Under the Florida Statutes, property owners can be held liable for negligence when they fail to properly maintain the premises or warn residents and visitors of potential hazards. You may be entitled to file a negligent security claim if you are a victim of a crime that actions on the part of the property owner could have otherwise prevented. Examples of negligent security include:
Failing to properly secure doors and windows;
Failing to provide proper lighting and fencing;
Failing to have door guard or security patrol the premises, particularly in high crime areas;
Failing to warn tenants or visitors of recent crimes that have occurred or address conditions that contributed to it happening.
Evidence To Support A Negligent Security Claim In Miami
Serious personal injuries can happen as a result of criminal activity. When negligence on the part of a property owner or manager is to blame, you have the right to seek compensation either through insurance policies they have in place or by filing a negligent security lawsuit through the Miami-Dade County Civil Court. Evidence that can help in support your case includes:
Photos or videos of unguarded doors, unlit hallways, and other hazards;
Photos or videos of criminal activity in the area;
Letters or other communications sent to property owners or managers from you or other tenants, detailing your security concerns;
Police reports or newspaper clipping detailing incidents the property owner or manager should have been aware of.
A key element in getting compensation through a negligent security claim is proving the property owner or manager either knew of the potential risks and failed to take reasonable precautions or should have known about the potential for criminal activity in the area.
Reach Out To Our Miami Negligent Security Lawyer 
Being the victim of a violent crime can have major impacts on your health and your emotional well-being. You have the right to hold property owners responsible for costs you incur as a result. This includes:
Current and future medical expenses associated with your injuries;
The cost of therapy, which victims often require in dealing with the trauma surrounding the crime and their injuries;
The cost to repair or replace damaged property;
Lost wages and future losses in income due to your injuries;
Compensation for your pain, suffering, and any loss of enjoyment in life you experience.
If you are the victim of a crime in Miami and suspect the property owner or manager is even partly to blame, reach out to Pita Weber Del Prado. We act as a strong legal advocate on your side, helping you get the compensation you need to recover. To request a confidential consultation, call 305-670-2889 or contact our Miami negligent security lawyer online today.
Sources:
leg.state.fl.us/statutes/index.cfm?App_mode=Display_Statute&URL=0700-0799/0784/Sections/0784.05.html
miami-dadeclerk.com/clerk/civil-family-court.page