Negligent Care of Nursing Home Residents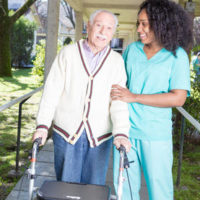 The sick and elderly enter nursing homes because they are no longer capable of providing self-care due to age or infirmity. Consequently, nursing home residents must rely on the skill, expertise and care of administrators and staff to achieve the most comfortable state of health possible. This benchmark will vary by the medical issues a particular resident faces, but failure to provide an adequate level of care can amount to nursing home abuse. The law requires nursing homes to maintain a consistent minimum level of care for all residents, and exposes facilities to legal liability if this standard is not met. Specifically, certain mandatory health and safety standards are enforced to protect a segment of the population that is often unable to adequately communicate their needs and desires. If residents or their families believe rights were violated because a nursing home did not fulfill their duty of care to adhere to these standards, legal action may be possible through filing a negligence claim against the facility. A recent news story out of Jacksonville provides an example of negligent care that produced significant injury for a nursing home resident. An obese woman that was documented as needing two nursing assistants to bathe her suffered two fractured legs after a staff member ignored this directive and attempted to bathe her alone, and the resident fell off the bed. A discussion of the staffing and care standards nursing homes are expected to provide, and what an injured resident must prove to recover compensation for negligence, will follow below.
Staffing and Care Standards
The Florida Department of Health sets the rules that govern how nursing homes can legally operate, including the various components that factor into safe resident care. Because most nursing home residents suffer from physical and/or cognitive problems that limit their ability to communicate and perform daily tasks, enough staff must be on hand to cover the differing needs of each person. Each resident must have his/her own plan of care that is tailored to that person's specific situation. This means that staffing levels must be able to meet these demands. At a minimum, though, nursing homes must have one physician, one nurse and one dietician available generally, but additional staff are needed to secure the residents' physical, mental and psychosocial well-being at all times, and is also expected to be present at all hours, per State regulations.
In addition to staffing requirements, all nursing home residents are entitled to a clean and comfortable living environment. This includes having access to:
clean drinking water;
nutritious meals according to medical needs;
social activities;
adequate lighting;
hot water;
clean bedding;
comfortable temperatures;
an abuse-free environment; and
emergency care.
Proving a Breach of the Standard of Care
What constitutes negligence or abuse covers a wide range of behavior, from giving the wrong medication to physical assault, and is representative of reckless or careless behavior that can lead to a resident's injury. To hold a nursing home liable for any resulting injury, an injured resident must show the employee's behavior was below the acceptable standard of care, which is typically established through an opinion from a medical expert about what type of care should have been provided based on the resident's needs, the skill of the caretaker, and the prevailing medical standard of appropriate care. The burden of proving this failure is on the injured party, and a causal relationship between the injury and the negligent act must be demonstrated for liability to exist. Injured parties may be able to recover for medical and therapy costs, physical pain and suffering, and emotional distress.
Get Help
If you or a loved one was the victim of nursing home abuse, contact the Miami law firm of Pita Weber Del Prado about filing a legal claim. Facilities need to be held accountable for harmful conduct, and the attorneys at Pita Weber Del Prado will fight for the compensation you deserve. Contact us for a free consultation.
Resources:
news4jax.com/news/local/jacksonville/jacksonville-nursing-assistant-charged-after-patient-breaks-both-legs