SUVs And Trucks Increase Risk Of Pedestrian Accidents In Miami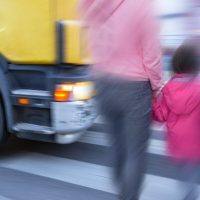 Pedestrian accidents in Miami are a major concern. There has been a rapid rise in cases, both recently and over the course of the past several years. In looking at underlying causes, traffic safety experts noted that SUVs and trucks are often involved. Find out more about the risks and how these crashes can be prevented.
SUVs and Trucks More Likely To Hit Pedestrians When Making Turns  
Florida has one of the highest rates of pedestrian accidents in the country. According to the state Department of Highway Safety and Motor Vehicles (FLHSMV), these claim the lives of close to 800 people each year while leaving over 3,000 others with serious personal injuries. Sadly, and despite the efforts of public safety officials, this number has only increased in recent years. A new study is now showing how the rise in SUV and truck owners may be partially to blame.
According to a March 28, 2022 Miami CBS Local News report, SUV and truck owners are more likely to be involved in pedestrian accidents in intersections. This is one of the places pedestrians are most at risk in general and crashes frequently happen involving larger vehicles making turns. Decreased visibility plays a major role and traffic safety experts are urging SUV and truck owners to use increased caution.
How SUV and Truck Owners Can Reduce The Risks of Pedestrian Accidents
Nearly 80 percent of all new vehicles purchased are trucks or SUVs. They are particularly popular in Miami and can create real hazards for pedestrians on the road. In addition to turning accidents, lower visibility also makes backing accidents more likely as well. These are common in parking lots and neighborhoods, with children among those most at risk.
Unfortunately, when a pedestrian accident does involve an SUV or truck, the Insurance Institute for Highway Safety (IIHS) warns that the chances of serious, potentially life-threatening personal injuries increase as well. Steps that SUV and truck owners can take to help reduce the risks include: 
Slow your speed both on local roads and in parking lots;
Come to a complete stop at intersections and before making turns;
Pay close attention and avoid any type of driving distractions;
Double or even triple check for pedestrians when making turns;
Use extra caution near stores, public parks, schools, or anywhere pedestrians typically gather.
Injured In A Pedestrian Accident? Contact Our Miami Pedestrian Accident Attorneys 
Pedestrian accidents can cause devastating personal injuries. This is particularly true when a crash involves an SUV or truck. In many cases, recklessness on the part of the driver is to blame. At Pita Weber Del Prado, we help you hold them accountable.
While you focus on recovering from your injuries, our Miami pedestrian accident attorneys focus on getting you compensation in a claim. We fight to get you the maximum amount you are entitled to for medical expenses, lost wages, and other costs. To request a consultation, call 305-670-2889 or contact our Miami pedestrian accident lawyers online today.
Source:
miami.cbslocal.com/2022/03/28/report-suvs-trucks-hit-pedestrians-making-turns/