5 Defenses in Florida Slip and Fall Cases and Ways to Defeat Them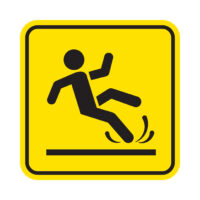 When you fall and injure yourself on someone else's property, seeking compensation for your monetary losses and damages can be complicated, especially if the property owner hired a team of premises liability lawyers to disprove your personal injury claim.
Regardless of whether your slip and fall occurred in a grocery store, nightclub, bar, shopping mall, or any other property, the burden of proof is on you and your Miami slip and fall attorney to establish the owner's negligence.
There are five defenses that are commonly used by property owners in Florida to defend themselves against slip and fall claims. Let's review these defenses as well as ways to defeat them.
You Were to Blame for Your Injury
Since Florida is a comparative negligence state, arguing that the plaintiff was to blame for the accident is the most common defense in slip and fall lawsuits. The comparative negligence doctrine reduces the amount of monetary damages you can recover by the percentage of your fault.
The best way to prevent the at-fault property owner from using this defense is to avoid making any statements that can indicate some degree of fault and be cautious not to overshare on social media.
The Defendant Was Unaware of the Hazard
A negligent property owner may argue that they and their employees had no knowledge of the dangerous condition that led to the accident.
To successfully defeat this defense, you must prove that the hazard was something that (a) was known or (b) should have been known by a reasonable and non-negligent property owner. For example, a reasonable property owner could have discovered the condition through inspection and maintenance.
Reasonable Measures Were Taken to Prevent the Accident
Your slip and fall accident does not warrant a compensation claim simply because you slipped and fell on someone else's property. A plaintiff must establish that the property owner failed to take reasonable measures to prevent the fall. If there is no evidence of that, the owner may argue that they had taken reasonable steps to protect you from the accident.
The Hazard Was Obvious
Another potential defense in a Florida slip and fall case is that the injury-causing condition was obvious to a reasonable person. Customers and visitors on another person's or entity's property must exercise a reasonable degree of care to avoid obvious dangers and known hazards.
The "open and obvious" defense can be challenged by proving that the property or building had code violations, there was inadequate lighting, the plaintiff was not warned about the danger or other factors that contributed to the fall.
The Statute of Limitations Has Expired
If the claim is filed after the statute of limitations has expired, the plaintiff is not entitled to any monetary compensation. Florida law sets a four-year deadline for slip and fall claims. The clock starts ticking on the date of injury.
A plaintiff who was injured on someone else's property will be barred from filing a claim if the statute of limitations has expired. Consult with a knowledgeable Miami slip and fall attorney before filing a lawsuit to ensure that your legal rights are protected and be prepared to defeat any potential defenses. Contact Pita Weber Del Prado to get a case evaluation. Call at 305-670-2889.
https://www.pwdlawfirm.com/personal-injury/reform-advocates-in-florida-seeking-limits-on-personal-injury-damages/