Can You Sue TikTok for Your Child's Injury Caused by the 'Skullbreaker Challenge'?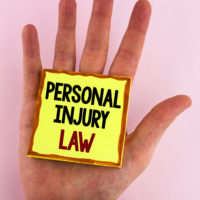 Two years after the Tide Pod challenge that saw teenagers eating laundry detergent capsules, TikTok users are participating in yet another harmful social media challenge. The new challenge, dubbed the "Skullbreaker Challenge," is a prank involving two pranksters and an unsuspecting victim.
The viral challenge, which has gained popularity on the social media platform TikTok, is injuring children and teenagers in Florida and across the nation, according to the Miami Herald.
But can injured victims and their parents sue TikTok for depicting and popularizing the dangerous prank? Or is the social media platform immune from personal injury lawsuits?
The Dangers of TikTok's Skullbreaker Challenge
Children have been reportedly injured from the Skullbreaker Challenge in Florida, Pennsylvania, Alabama, New Jersey, and Arizona. In the challenge, three people stand beside one another. The person in the middle – the unsuspecting victim – is told to jump as high as they can. When the jumper is in the air, the two pranksters kick their feet out behind the victim's legs, which causes the person to fall on their back.
The landing could cause head trauma, brain injuries, spinal cord and back injuries, concussions, paralysis, and even wrongful death. Dr. Nathan Richards, a physician affiliated with Ohio State University Wexner Medical Center, told Yahoo that people participating in the challenge could suffer:
Skull fracture
Bruising
Hematoma
Neck strain or fracture
Concussions
Bleeding in or around the brain
Loss of consciousness
Paralysis
Death
The Miami Herald report details how an Arizona boy lost consciousness after two other children pulled the prank on him. Doctors diagnosed a head injury and had to put stitches in his face. There are also cuts inside his mouth and damaged two front teeth.
Can Parents Sue TikTok for Their Child's Personal Injury?
In a statement to Gulf News, TikTok insisted that it would remove any Skullbreaker Challenge videos from its platform, saying that the "safety and well-being" of its users is the company's "top priority."
The statement also pointed to TikTok's community guidelines, which state that the platform does not allow content that "encourages, promotes or glorifies" dangerous challenges that might lead to injury."
In the United States, platforms like TikTok and YouTube generally cannot be held liable for user-generated content under Section 230 of the Communications Decency Act, according to Abacus News. Most major platforms operating in the U.S. have set forth self-enforcing rules forbidding their users from posting dangerous videos.
TikTok's community guidelines also ban videos or content that depict dangerous acts or encourage other users to engage in such activities. In addition, the app adds warnings to videos when the activity portrayed is deemed risky to imitate.
The emerging popularity of short-video service and its dangerous challenges that injure kids across the U.S. have prompted lawmakers in Washington to debate changes to Section 230 to limit immunity for social media platforms and other Internet companies.
Critics of Section 230 argue that social media platforms are using the law to avoid responsibility for questionable content while generating millions of dollars in revenue. According to a January 2020 report by Barron's, TikTok made a whopping nearly $177 million in revenue in 2019.
Speak with a Miami personal injury attorney if your child has been injured while participating in a TikTok challenge. Contact Pita Weber Del Prado to discuss your legal options to obtain financial compensation. Call at 305-670-2889.
Resource:
abacusnews.com/culture/when-online-stunts-turn-deadly-should-video-sites-be-held-responsible/article/3040355
miamiherald.com/news/nation-world/national/article240425456.html
yahoo.com/lifestyle/doctors-say-skull-breaker-tiktok-challenge-could-be-fatal-151928393.html
https://www.pwdlawfirm.com/personal-injury/5-personal-injury-myths-in-florida-that-still-persist-in-2020/